Nurse Practitioners - Pharmacology and Prescribing Conference
An essential update
Overview
There are now more than 1,400 nurse practitioners Australia-wide. As prescribers, it is necessary to ensure currency of knowledge in regard to correct prescribing and the appropriate use of medicines. Attend this conference and learn about:
The latest evidence, and changes to recommendations in relation to commonly prescribed medicines, including antidepressants, statins, immunisations and opioids
Prescribing in challenging situations, including neonatal and paediatrics, sexual health and chronic disease
Refreshers on pharmacokinetics and pharmacodynamics
A panel session comprised of Nurse Practitioners and Pharmacists
Vitamin deficiencies, when to treat, and what to treat
An update on allergy and anaphylaxis in children with IgE-mediated
"Closing the Gap" and how you can participate
Breakout rooms and essential networking opportunities with colleagues from across Australia
Attend this conference, which is specifically designed to improve your patient outcomes.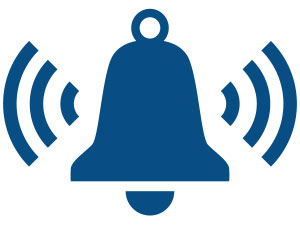 Get Event Alerts
Set a reminder email for this event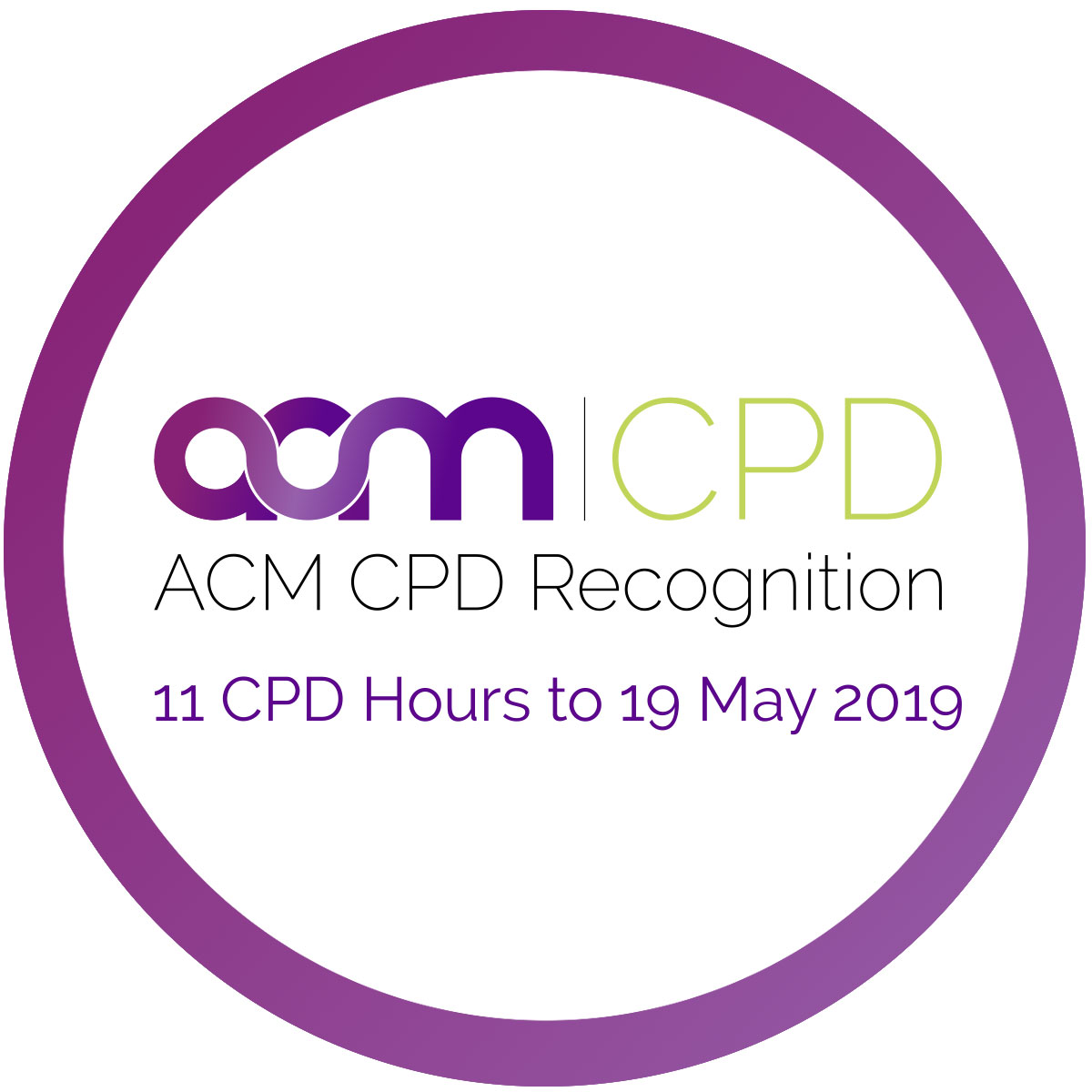 Australian College of Midwives CPD Recognised Activity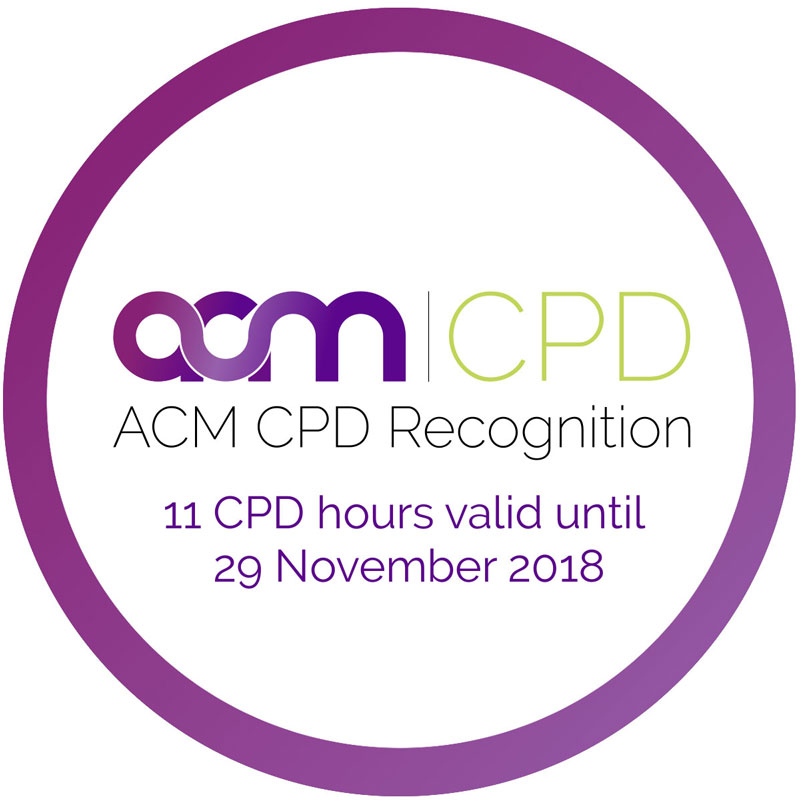 Australian College of Midwives CPD Recognised Activity
Schedule
Day One
8:30AM Registration for Day One
---
Introduction to Conference
Leanne Boase
Welcome to Country
Aunty Diane Kerr
Dr Jenny Royle
Immunisation - A Clinical and Professional Skills Update
The opportunity to prevent certain illnesses with vaccines should be available to everyone. Explaining the diseases we can prevent, the severity of these infections and limitations of available treatments assists parents in understanding why we choose to immunise our infants. All medications have side-effects and all immunisations have side-effects. Understanding the potential side-effects and explaining these to parents is a vital aspect of providing best practise in immunisations. This session will cover:
Understanding the Australian Immunisation Schedule
Non-judgmental conversations with parents who have immunisation questions
Answering complex questions about potential immunisation side-effects
Maximising the prevention of pertussis
Meningococcal disease and available vaccines
Influenza vaccine
Robyn Saunders
Statins - Practical Prescribing for Therapeutic Outcomes
Statins are one of our most commonly prescribed medicines. They are widely recognised as contributors to large risk reductions relating to cardiovascular disease. Nevertheless, questions still occasionally arise about their effectiveness, particularly in low-risk populations, and the optimal management of adverse effects. This session will aim to answer some of these questions prescribers may have by briefly overviewing statins and discussing practical prescribing for best outcomes and includes:
Common statins – why, when and how to consider prescribing them
Potential side effects and red flag interactions
Managing myalgia – to cease, reduce or change
Deprescribing – when is it recommended and what to monitor
Evidence to navigate common dilemmas across the ages
11:00 Morning Tea
---
Kathy Tori
Utilising Evidence to Support Prescribing Decisions
The sheer amount of new evidence relating to medicines today can make it difficult for prescribers to adequately stay informed. Given the significance of the therapeutic decisions that must be made routinely, being able to easily access credible sources is imperative. Practically applying evidence need not be challenging. This session will look at a range of resources that can complement your clinical expertise and patient preferences so you are well positioned to maximise pharmacotherapeutic outcomes. It includes:
Finding and appraising credible sources of information – where to look and how to assess
When time is at a premium – overcoming obstacles
How to practically integrate best available evidence, patient preferences, and your clinical expertise into your prescribing practice
Leanne Boase, Dr Jenny Gowan, Kathy Tori and Danielle Kennedy
Panel Session: Common Prescribing Issues for Nurse Practitioners – Now and in the Future
This next session is your opportunity to discuss common prescribing issues for nurse practitioners with an experienced panel. Topics may include challenges you currently experience or anticipate to experience in the future and are not limited to, but include:
PBS access, regulations, limitations, and rules
Resources for prescribing
Effecting changes to the PBS
Access to prescribing education
1:00PM Lunch and Networking
---
BREAKOUT ROOMS (select one from the three below)
Breakout Room One - Mental Health
Dr Jenny Gowan
Antidepressants - How to Make Therapeutic Prescribing Decisions
Antidepressant medicines are one of our most commonly prescribed medicines. However, these medicines can have profound side effects and are particularly potent to certain vulnerable groups of the population, such as older adults. This session will highlight the issues surrounding the prescription of antidepressants. Moreover, it will demonstrate how to overcome these issues to achieve safe and effective pharmacotherapeutic outcomes. It includes:
Assessment and initiation of common antidepressants
Monitoring for wanted and unwanted effects including serotonin syndrome
Interactions with over-the-counter medicines
How to address issues of acceptance and adherence
Deprescribing antidepressants or changing treatment
Because medicines are not enough – evidence on psychotherapy, nutrition, and other adjunctive therapies
Breakout Room Two - Pharmacology
Associate Professor Louis Roller
Pharmacodynamics – A Refresher
If you are considering becoming a prescriber, are new to prescribing, or are even experienced but wanting a refresher – this session is for you. Pharmacodynamics is the branch of pharmacology concerned with the effects of drugs and the mechanism of their action. Without this knowledge, we are vulnerable to misunderstandings of how and why we are treating a person with a medicine. This session ties basic principles of pharmacodynamics to four conditions every nurse practitioner is familiar with and includes:
A rapid overview of pharmacodynamics
Key examples and prescribing considerations in relation to:

Drugs acting by chemical reaction
Drugs acting on enzymes
Drugs acting on receptors
Drugs acting by physical action
Affinity, specificity, potency and efficacy
Breakout Room Three - Paediatrics
Dr Joanne Scott
Neonatal and Paediatric Nurse Practitioner Prescribing
Prescribing for neonates and children is not as simple as using the same mg/kg calculation as it is for adults. In this session, discussion will focus on:
Challenges with sizes and body surface area to weight ratio
Immature metabolism and how to manage this safely when prescribing
Altered drug disposition, including gastrointestinal and intramuscular absorption
Hepatic metabolism and renal excretion
3:00 Afternoon Tea
---
Dr Jenny Gowan
Prescribing for Pain During An Opioid Crisis
Opioids such as morphine, codeine, and oxycodone are increasingly becoming a cause for concern in the Australian community. Often, these concerns centre on the addictive nature of the medicines and their potential for harm including the risk of overdose. In the setting of this crisis, prescribers must be well informed about the pharmacotherapeutic actions and correct uses of these medicines. This session will demonstrate how evidence-based prescribing of opioid-based analgesic agents is still possible during an opioid crisis by looking through the lens of two common scenarios – acute pain and chronic pain – and includes:
Case scenario one: Acute Pain

Advanced pathophysiology - what is occurring?
Evidence-based treatment - what works?
Interactions and contraindications - what to avoid and why?
Special prescribing considerations - dose titration, novel therapies etc.

Case scenario two: Chronic Pain

Advanced pathophysiology - what is occurring?
Evidence-based treatment - what works?
Interactions and contraindications - what to avoid and why?
Special prescribing considerations - dose titration, novel therapies etc.
4:30 Close of Day One of Conference
---
Day Two
9:00AM Commencement of Day Two
---
Dr Jenny Gowan
Chronic Disease Management - A Rational Prescribing Approach
Chronic disease, and often multiple chronic diseases, can present complicated challenges when prescribing. In this session, case studies will be presented in order to highlight these key challenges, involving patients with multiple chronic diseases. The focus of this discussion will be on how you can apply rational prescribing approaches to avoid interactions and includes:
The person with COPD and...
The person with diabetes and...
The person with cardiovascular disease and...
Leanne Boase
Medication Reconciliation – Beyond the Medication List
Nurse practitioners that look beyond the medication list and develop a true understanding of what their patient is actually taking and how they use their medicines are well placed to reduce risk and improve safety. Nurse practitioner led medication reconciliations create an opportunity to significantly improve health outcomes by reducing discrepancies that often occur as a patient moves between healthcare services. This session will consider:
Why you should focus on medication reconciliation
How to effectively perform a medication reconciliation
Why each reconciliation is an opportunity for deprescribing and prevention of adverse events
Case examples that highlight how consequences of medication errors can be prevented
10:45 Morning Tea
---
BREAKOUT ROOMS (select one from the three below)
Breakout Room One - Pharmacokinetics
Associate Professor Louis Roller
Pharmacokinetics – A Refresher
Pharmacokinetics refers to how the body affects the medicine, and how it moves through the body. This rapid refresher will ensure you can relate your prescribing practice to the following key concepts:
The ADE (absorption, distribution, and excretion) curve – implications of the therapeutic range
Bioavailability – how it affects medicine quality, including use of generic medicationss
How therapeutic medicine monitoring is used
Protein binding and distribution
Hepatic metabolic elimination and reabsorption considerations
Medicine elimination and reabsorption
Multiple dose regimes – peak and trough levels, loading dose and steady state considerations
Pharmacokinetic medicine – medicine interactions
Breakout Room Two - Nutritional Supplements
Dr Jenny Gowan
The Truth About Vitamins, Minerals, and Other Topical Issues - Current Evidence
Vitamins, minerals, and other dietary supplements are used for a wide range of reasons, not just for the management of deficiencies. Despite the widespread information surrounding them, actual evidenced-based efficacy is often insufficient. This session will update you on the evidence for correct indications for vitamins and minerals and key prescribing considerations such as toxicity and interactions. It includes:
Can some medicines cause nutritional deficiencies?
What are the benefits of fish oil?
When is Vitamin D indicated?
Topical issues – are zinc, magnesium, calcium, glucosamine, Vitamin B12, curcumin for arthritis and CoQ beneficial in disease management and for wellbeing?
What does the evidence suggest?
How do you know what is a reliable product?
Where are sources available for reliable information?
Breakout Room Three - Immunology
Dr Dean Tey
Avoiding Anaphylaxis in Children with IgE-Mediated Food Allergies
Anaphylaxis is a life threatening emergency that can occur unexpectedly and is a severe consequence of an IgE-mediated food allergy. This session includes an update on the latest information on allergy in Australia including the management of anaphylaxis and looks at:
Main differences between IgE and non-IgE mediated food allergies, including common allergens
Blood tests and skin pricks – how IgE-mediated allergies are diagnosed
Desensitisation and food challenges in children
An update on the management of anaphylaxis
A guide to recent changes to autoinjectors
Associate Professor Louis Roller
Do No Harm? Avoiding Interactions and Unwanted Effects
All prescribers must constantly be on high alert for interactions and unwanted effects of medicines. Eternal vigilance is warranted if we are to stop unnecessary and preventable harm to those in our care. This practical session will serve a timely reminder of why and how we can prevent unintended consequences of medicines and includes:
Case-based discussion on common interactions and the management of unwanted effects
Examples of less common and less known interactions
Key strategies for identifying uncommon unwanted effects
Deprescribing – the key to avoiding harm?
1:15PM Lunch and Networking
---
BREAKOUT ROOMS (select one from the three below)
Breakout Room One - Professional Issues
Suzanne Wallis
Closing the Gap – The Role of Nurse Practitioners
Nurse practitioners can play a key role in improving health outcomes for Aboriginal and Torres Strait Islanders living with, or who are at risk of, a chronic disease. This session explains how Closing the Gap (CTG) prescriptions can improve access to those eligible. It will offer an opportunity to clarify common questions you may have, such as:
What is CTG?
Can NPs write CTG prescriptions?
How do you identify who's eligible for CTG?
Where does CTG prescribing sit within the larger CTG framework?
What are strategies to prevent cultural blindness in the health setting?
Breakout Room Two - Sexual Health
Leah Ward
Sexual Health – Prescribing for Prevalent and Not So Prevalent Diseases
Nurse practitioners working in a range of specialities will encounter patients with concerns about sexually transmitted infections. While education often focuses on prevalent conditions, equally important is a focus on conditions that are re-emerging or becoming resistant to treatment. This session will bring you up to date on key considerations relating to the prescribing and administering of medicines used in sexually transmitted infections and includes:
A look at The 2016 Australian Annual Surveillance Report – key findings
Updates on the testing, prescribing, and monitoring of chlamydia, syphilis and mycoplasma genitalium and gonorrhoea
HIV prevention – PEP and PreP, including where these treatments can be obtained
Current treatment protocols – application to practice, with a focus on the PBS
Emerging trends of resistance to treatment
Breakout Room Three - Rheumatology
Linda Bradbury
Biologic Agents - Clinical and Prescribing Considerations
Biologic agents are now being used more frequently for the treatment of autoimmune conditions such as rheumatoid arthritis, inflammatory bowel diseases, and multiple sclerosis. While nurse practitioners are currently not able to prescribe these medicines, there is a need to understand the clinical and prescription considerations associated with these medicines. What do nurse practitioners need to know if their patient has a concurrent rheumatological or autoimmune condition?
What are biologic agents?
Why are these agents used?
What are common side effects?
What are the prescribing considerations when a patient is receiving or has received biologics?
What are the clinical considerations due to changes to a person's immune system?
3:15 Afternoon Tea
---
Kathy Tori and Leanne Boase
Leadership and the Art of Effecting Change
As the nurse practitioners continue to expand in numbers, evolve in scope of practice, and strengthen as a profession, opportunities are a plenty for affecting and influencing the healthcare landscape. You, as empowered individuals, are key to effecting large scale change to policy and legislation. This final session will consider how great leaders transform challenges and limitations into opportunities and includes how leadership can:
Change policy and legislation
Help overcome scope of practice limitations to prescribing
4:30 Close of Conference and Evaluations
---
The Goal
Need for Program
Nurse Practitioners are authorised to prescribe a wide range of medicines. As a professional group, it is challenging to access quality education that addresses their needs in relation to latest updates and the myriad of changes to the evidence base, refreshing basic prescribing knowledge, and gaining new knowledge to support their individual scope of practice. Nurse Practitioners are also required to access 10 hours of advanced practice education, including prescribing, each year. The sheer amount of new evidence relating to medicines today can make it difficult for all prescribers to adequately stay informed. Therapeutic decisions must be based on advanced assessment and, evaluation of the patient circumstances, consideration of concurrent therapies, and should also maximize opportunities for deprescribing. Prescribing demands high level knowledge and skills relating to pharmacotherapeutic action including potential adverse and other side effects, drug interactions, compliance and evaluation.
Purpose of Program
The purpose of this program is to increase your advanced practice knowledge regarding prescribing and administration of medicines.
Your learning outcomes:
1
Clinical decision making relating to prescribing medicines will reflect the latest evidence
2
Adverse effects of medicines including unwanted side effects will be prevented, identified and reduced
3
Patients in your care will experience the highest level of health care, and the best possible outcomes
4
Medicines will be prescribed and care delivered within the Australian legal framework
Nurse Practitioners - Pharmacology and Prescribing Conference
Location
Date
Nurse Practitioners - Pharmacology and Prescribing Conference
11 Hours | 0 Mins
---
Get a Letter of Support
Are you looking for support from your manager to attend this event?
Enter your email below and we'll send you a letter of support
Mailing List
Stay up-to-date with the latest event information from Ausmed.