The Ins and Outs of Bowel Disease Conference
2 Day Nursing Conference
Overview
Bowel disorders are increasing in Australia today and their treatment is increasingly sophisticated. Bowel diseases have a significant impact on a person's entire health. Nurses are therefore crucial in ensuring patients with bowel disease have the best health outcomes possible. Attend this conference and update your knowledge about:
The huge effects of inflammatory bowel disease
Abdominal assessment to identify potential complications
Nutrition for people living with bowel diseases
Faecal pathology and what this reveals
Management of GIT bleeding
How to select appropriate products and manage challenging stomas
Review of modern pain management medications and antibiotics
Allaying anxieties and fears associated with bowel disease and much, much more...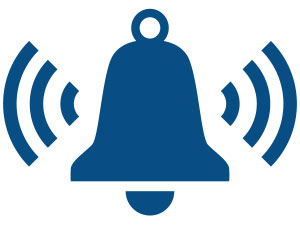 Get Event Alerts
Set a reminder email for this event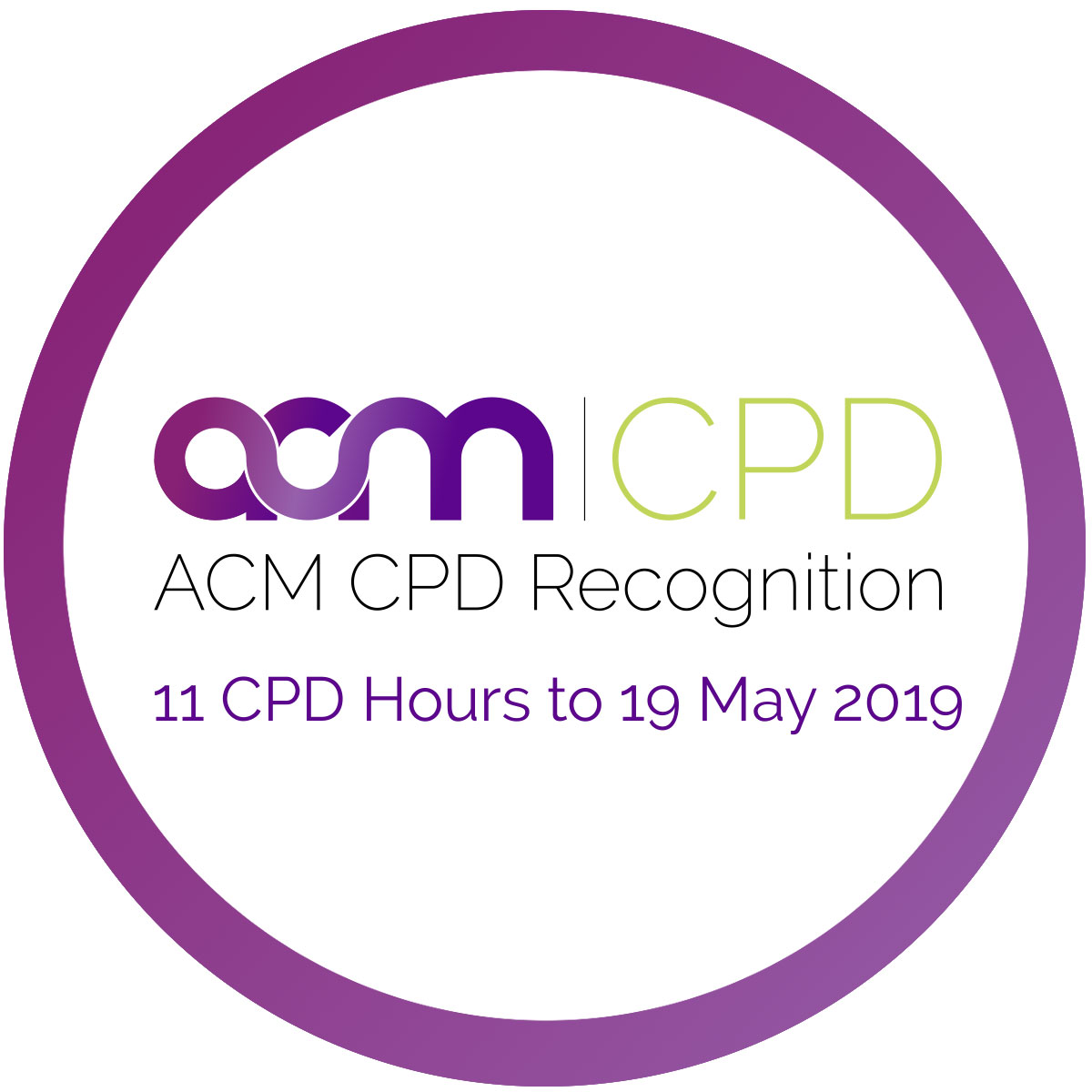 Australian College of Midwives CPD Recognised Activity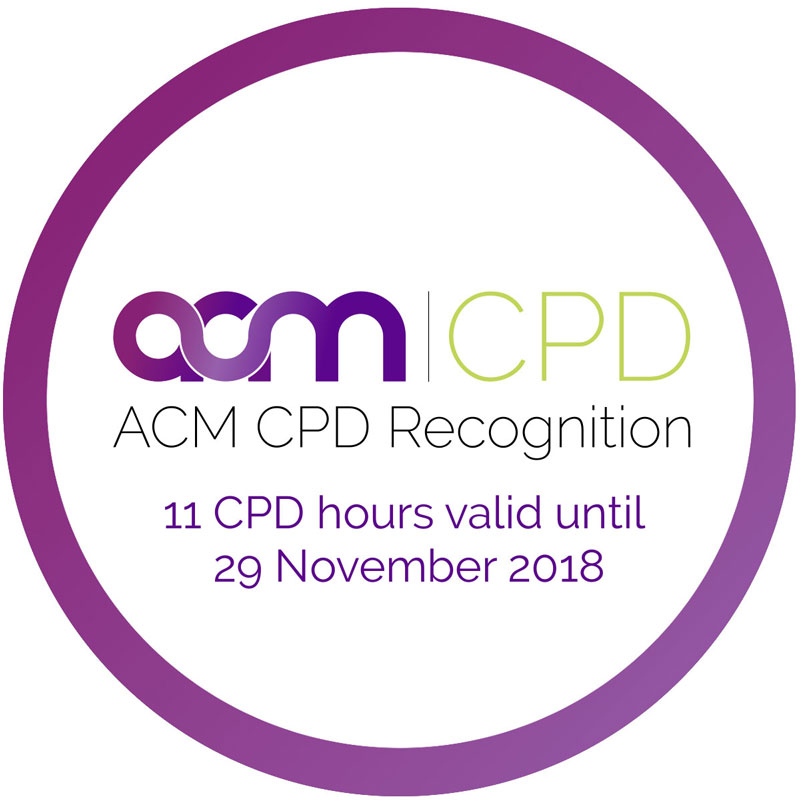 Australian College of Midwives CPD Recognised Activity
Schedule
Day One
8:30AM Registration for Day One
---
Ros Ben-Moshe
My Experience of 'Laughing at Cancer'
This heartfelt opening session commences the conference by sharing with you a story of how a woman at aged 42 received a shock diagnosis of bowel cancer. Almost six years to the date she will reflect on her journey which included a full bowel resection and ileostomy. By reading a series of journal entries from her recently published book, she will demonstrate that it is possible to 'Laugh at Cancer' and provide insight into the following:
A personal account of turning illness into wellness
The effects of using empowering language and communication skills
How to promote resilience, self-growth and develop a positive mindset
Wellbeing and mindfulness tips to boost mood and physical wellbeing and mood
Angela Xiriha
Abdominal Assessment - Recognising the Warning Signs
Assessing a person's abdomen especially if they are experiencing pain can be challenging. However, an accurate assessment can identify potential problems and enable them to be averted early. This session reviews the basics of an abdominal assessment but more specifically focuses on how you can recognise warning signs that may indicate something is wrong. Includes:
What is the correct framework for performing an abdominal assessment?
What to ask, what to look for, what to feel for and what to listen for
Subtle signs that may indicate:

Ileus / obstruction
High or low output changes and associated fluid balance challenges, e.g. electrolyte management
Intra-abdominal collections
Peritonitis / perforation
10:45 Morning Tea
---
Angela Xiriha
Lower Gastrointestinal Bleeding - Causes, Consequences and Nursing Considerations
Gastrointestinal bleeding can result from a number of conditions associated with the digestive tract, including inflammatory bowel disease, haemorrhoids and peptic ulcers. This session will look at the following:
What is the difference between upper and lower gastrointestinal bleeding?
Who is most at risk?
What are the signs and symptoms?
How is the source of bleeding identified?
How is massive lower gastrointestinal bleeding managed?
Dale Long
Managing Pain in Patients Post-Bowel Surgery
Evidence suggests that good pain management is intrinsically tied to improved patient outcomes such as reduced de-conditioning, rates of infection and other preventable complications. However, the complex nature of managing pain, particularly in the immediate post-operative period requires nurses to be well informed. This session will detail evidence-based nursing management of pain, with a focus on patients following bowel surgery. Includes:
What is the pathophysiology of pain post-surgery?
How should pain post-surgery be assessed?
Interpreting and acting on your assessment findings to ensure optimal pain management
Complexities of pain management - tips for getting it right
Non-pharmacological nursing management strategies
1:00PM Lunch and Networking
---
Lisa Clare
Aids and Appliances for Stomal Therapy
There are a complex range of modern aids and appliances associated with the care of a person with a stoma. With more and more products constantly being released, understanding the correct use of each product is essential. This practical session looks at some of these products, giving you information on their use, application and how this relates to optimum patient care. You will also discover some useful tips that you can share with your patients.
Lisa Clare
Managing Challenging Stomas
Preoperative planning is seen as a cornerstone of optimal stoma management. However, a 'perfect stoma' may not always result. The effects of stoma complications on a person are significant. This session looks at the causes, consequences and tips for managing the following:
What factors may make a stoma more difficult to construct and manage?
Stoma complications and practical management options:

Skin issues
Prolapse
Stenosis
Parastomal hernia
Retracted stoma
3:30 Afternoon Tea
---
Dr Páraic Ó Cuív
The Secret Gut - Unlocking the Key to Bowel Diseases?
The gut microbiome, a collection of trillions of mostly bacterial microorganisms, is increasingly being recognised as an integral part of the body. More is being revealed about this once forgotten organ, particularly in relation to the interplay between the gut and health. This fascinating session will look at what we know about the microbiome. Includes:
How is the gut microbiome connected to health?
What role does it play in gastrointestinal disease?
4:30 Close of Day One of Conference
---
Day Two
9:00AM Commencement of Day Two
---
Professor Timothy Florin
Inflammatory Bowel Disease (IBD)
Inflammatory bowel disease, of which Crohn's and Ulcerative Colitis are most common, is chronic and lifelong. The rate of prevalence in Australia of this mostly hidden disease is one of the highest in the world and increasing. This session looks at:
How is IBD defined and what are its causes?
When is onset of the disease experienced?
What is the course of the disease and its associated complications?
What factors are associated with impaired health-related quality of life?
What are the goals and evidenced principles of IBD treatment? (i.e. What's normal? What should a person expect be an optimal quality of life?)
Professor Timothy Florin
Beyond the Belly - Systemic Complications of IBD
The effects of IBD on a person are evidently far reaching. Complications are not just limited to the bowel. IBD or treatment associated with IBD can cause a raft of systemic effects to a person. This session will look at some common systemic complications of IBD. Gain knowledge to help you truly understand the impact of IBD on a person and identify complications early. Includes:
Local complications of IBD that affect the intestines, e.g. strictures, fistulas etc.
Infection
Malignancy
Arthritis
Eye disease
Skin conditions
Urinary complications
Other complications to be aware of such as psychological wellbeing
10:30 Morning Tea
---
Dr. Treasure McGuire
Pharmacological Treatment of IBD
Anti-inflammatory agents and immunosuppressants are common medicines used in the treatment of IBD. Antimicrobial agents and other medications may be required for pain relief and other symptoms. These may be prescribed using a step-wise approach. This session provides a review of these medicines in the context of their treatment of IBD as well as precautionary considerations. Includes:
What are the main types of medicines used in the treatment of IBD and why?

Anti-inflammatory agents
Immunosuppressants and biological agents
Other adjunct therapies

What are some of the long term adverse effects of these medicines on the person (and potentially their nurses)?
How to provide safe advice to patients
Considerations when allergies are present
Angela Xiriha
Acute Pancreatitis
Pancreatitis is often associated with alcohol ingestion and gall bladder disease. However, it is now known that other causes are now implicated in its gestation. Inflammation of the pancreas causes a raft of symptoms and can be very painful. This session will review this disease and its current management. Includes:
What is the pathophysiology of pancreatitis?
What are the common causes and who is most at risk?
What are the signs and symptoms and how are they investigated?
What are the physical consequences of pancreatitis?
What are some of the long term adverse effects of these medicines on the person (and potentially their nurses)?
How is this condition treated and what is the prognosis?
12:45PM Lunch and Networking
---
Katie King
What is Coeliac Disease?
Coeliac disease is often thought of as an invisible disease, yet it is considered to be one of the most common lifelong diseases, worldwide. In coeliac disease, the immune system attacks itself, causing an abnormal reaction to gluten. If consumed, villi (small cells which line the bowel) can become inflamed, causing a raft of effects. This session reveals:
What is coeliac disease?
What are signs of possible coeliac disease?
Why are symptoms often varied?
How does coeliac disease affect the whole body, not just the bowel?
How does a strict gluten-free diet benefit a person with diagnosed coeliac disease?
Katie King
Nutrition for People Living with Bowel Diseases
It should be no surprise that nutrition plays an integral part in living well with bowel diseases. Good nutrition assists with the management of symptoms and prevention of complications such as weight loss, flare ups, nutritional deficiencies and malnutrition. This practical, informative session will update you on relevant nutritional approaches to a range of chronic bowel conditions. It will look at what happens in the hospital and as a person transitions to going home. A strong focus will be on providing correct education. Includes:
How do chronic bowel diseases affect appetite, absorption and other aspects of nutrition?
When may oral supplements, enterral or parenteral nutrition nutrition be required?
Correct, practical nutritional approaches to:

Colorectal cancer
Small bowel obstructions
Diverticular disease
Inflammatory bowel disease
People living with stomas
3:00 Afternoon Tea
---
Jane Stanfield
Promoting Resilience in Patients with Bowel Diseases
Fear and shame associated with bowel conditions can be devastating to a person. It can affect their quality of life and delay seeking help. As with any serious illness, the risk of developing co-morbid depression is very real. This final session looks at how a nurse can develop professional rapport with a person affected by lifelong bowel disease and in turn promote resilience. Includes:
What is resilience?
How can nurses encourage and build resilience in patients?
How does this relate to healing and patient satisfaction?
4:30 Close of Conference and Evaluations
---
The Goal
Need for Program
The incidence of people with bowel disease varies in Australia with some, such as inflammatory bowel disease and colon cancer, being common disorders. They are, by nature, anxiety-producing and may cause very uncomfortable symptoms. Current evidence suggests that timely management of these conditions and best practice care is imperative if wellness and quality of life is to be preserved. Nurses frequently connect with patients with disorders of the bowel and have a key role in their support and desired outcomes.
Purpose of Program
This conference provides evidenced knowledge to promote best practice nursing care of people with bowel conditions.
Your learning outcomes:
1
Correlate information obtained from a nursing assessment of a patient's health and laboratory findings to develop appropriate care plans
2
Use current knowledge about bowel related disorders and their management to promote best outcomes for patients across the continuum of care
3
Patients in your care will be supported to deal with the anxieties and emotional strains associated with a bowel disorder
4
Use information relating to bowel health to promote prevention of disorders and to educate patients
The Ins and Outs of Bowel Disease Conference
Location
Date
The Ins and Outs of Bowel Disease Conference
11 Hours | 30 Mins
---
Get a Letter of Support
Are you looking for support from your manager to attend this event?
Enter your email below and we'll send you a letter of support
Mailing List
Stay up-to-date with the latest event information from Ausmed.