More than half of older adults over the age of 75 are thought to have kidney disease (National Kidney Foundation 2014).
Kidney disease is often silent and occurs when the nephrons, the tiny blood-filtering units of the kidney, become damaged. Damage to the nephrons causes a build-up of toxic waste and fluids within the body. Chronic kidney disease (CKD) can be defined as the loss of one-third of kidney function (MLHC 2018).
What Are the Symptoms of Kidney Disease?
It is important to note that individuals may lose up to 90 per cent of their kidney function before developing symptoms (MLHC 2018). Symptoms of kidney disease may include:
Hypertension;
Changes in frequency of urination;
Haematuria (blood in the urine);
Oedema (swelling of the feet, ankles and legs);
Muscle cramps;
Headache;
Fatigue;
Loss of appetite;
Nausea and vomiting;
Pruritis (itching);
Sleep disturbance; and
Shortness of breath.
(Mayo Clinic 2019; NHS 2019)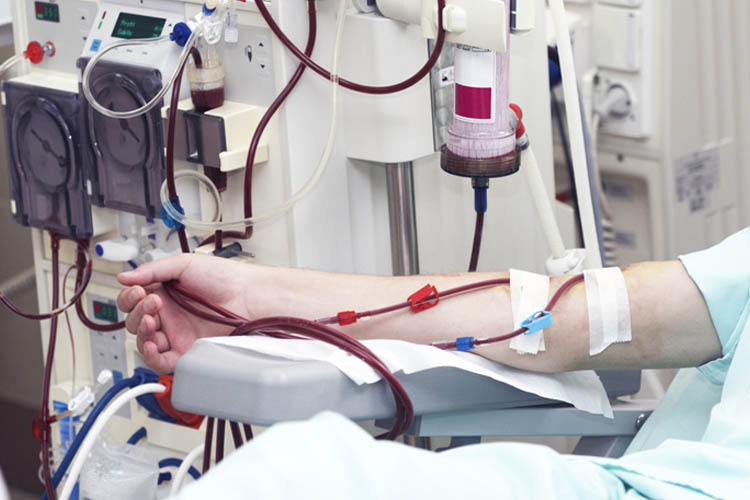 Who is at Risk of Developing Kidney Disease?
Individuals:
Over the age of 60;
With diabetes;
With a family history of chronic kidney disease;
With a history of heart attack or stroke;
Who have hypertension;
Who are obese;
Who smoke; and
Who are of Aboriginal or Torres Strait Islander origin.
(Kidney Health Australia 2016)
How is Kidney Disease Diagnosed?
Excess protein in the urine is a marker of kidney damage. Patients who are at high risk of renal disease should have an ACR (albumin-creatinine ratio) urine test, which presents an accurate picture of the amount of protein in the urine. Albumin in the urine is sometimes the first sign of kidney disease (Kidney Health Australia 2017).
The glomerular filtration rate (GFR) is a measure of how efficiently the kidneys filter waste products from the bloodstream. The GFR is the most accurate assessment of kidney function. Because GFR is difficult to measure accurately, the glomerular filtration rate is estimated (eGFR) using serum creatinine prediction equations that take into account the patient's age, size, gender, ethnic group and creatinine level (Kidney Health Australia 2016; NHS 2019).
Related Research Study
Current thinking regarding older adults and kidney disease suggests that older patients are more likely to die of old age than succumb to kidney failure. Canadian researcher Dr Brenda Hemmelgarn and her team set out to determine the relationship between age and untreated versus treated kidney failure (Rattue 2012).
Hemmelgarn and her colleagues assessed more than 1.8 million adults who had a baseline estimated glomerular filtration (eGFR) rate of 15mL/min/1.73m2 or greater. The researchers obtained the measures of glomerular filtration rate over a 6-year period between 2002 and 2008. At the beginning of this study, none of the subjects required dialysis (Rattue 2012).
The results showed a rise in mortality rates as the age of the subjects rose, and that the youngest age group had the highest rate of treated kidney failure (Rattue 2012).
Results of Study
The study revealed that 97 451 subjects had passed away during the follow-up midpoint average of four years, with 3 295 subjects developing treated kidney failure, and 3 116 subjects developing untreated kidney failure (Hemmelgarn et al. 2012).
The adjusted rates of untreated kidney failure for patients in the lowest glomerular filtration rate stratum were more than five times higher among those aged 85 years and older compared with the youngest age group (18 to 44 years). Untreated kidney failure was more common in older participants (Hemmelgarn et al. 2012).
The results of this study suggest that there is a need to recognise and assess chronic kidney disease progression in older adults. Healthcare practitioners should offer dialysis to older patients when they are likely to benefit from it.
Conservative treatment should be offered to patients who are unlikely to benefit from long-term dialysis, or who would prefer not to receive dialysis. These results also indicate the need to more accurately identify older patients with chronic kidney disease, as well as to assess their symptoms and develop appropriate treatment strategies.
Lastly, a better understanding of the decision-making process regarding dialysis and older adults is required.
Our population is ageing and, as the aged population grows, we need to develop strategies to better cope with health conditions affecting older adults, including chronic kidney disease.
References