Among the most difficult scenarios that can arise for caregivers when communicating with patients is talking with a patient who is dying. It is challenging and often awkward to face the person. You might be too professional and distant, or you may go the other way, and be more emotional and connected than you should be. Remember, you have a roster of patients, and the wear and tear from becoming too emotionally involved can lead to burnout. How do you successfully balance all of the emotional roadblocks that can arise when dealing with a patient who has a poor prognosis?
It is important for you to be mentally healthy when working as a nurse, but especially when working with a population of patients who are in the process of dying. This means taking care of yourself and having ways to de-stress and unwind. When you go home you need to leave the sadness and emotion of the job at work. If you take it home you could end up becoming a victim of compassion fatigue—a syndrome that can lead to anger, depression, substance abuse, and other problems. Communicating with dying patients is difficult and taking care of yourself emotionally should always come first.
Honesty
Pretending the problem doesn't exist is insulting to the patient. Most people who are dying are aware of what is happening. If you don't acknowledge what you know it may make the person feel like you are infantilizing them. However, if you enter the room tongue tied and sad the patient could feel as if you pity them. Neither of these approaches will make your patient feel supported through this difficult time. Instead, you should approach the patient with neutrality. You are an open, loving caregiver. You tend to their needs and answer their questions with honesty.
It can be challenging to be open. When a patient asks a difficult question you may be tempted to pass the buck to other caregivers or to gloss over it. However, your patients have the right to know what their condition is. That is part of ethical nursing. Your patient may also need to open up to someone and trusts you because you are their nurse. Don't betray your patient's trust by closing yourself to their emotional needs and their need to know. Although it may be difficult, always tell your patient the truth when they ask questions.
Being Present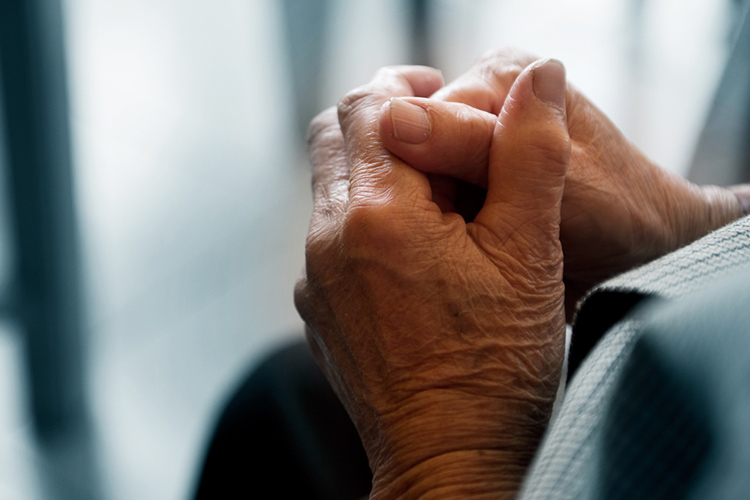 Sometimes, in this situation the best communication is not saying anything at all. This is not always easy; one part of you may want to draw the person out to explore their feelings while another part of you would just like the distraction of talking to avoid awkwardness. Neither of these approaches is helpful to a dying person. You just need to be present. In some cases, silence is more helpful than talking. Maybe your patient has been talked to so much that the quiet helps to finally give them a chance to talk. They could also be tired of talking because everyone wants to know everything about what they are feeling.
Helping Families
Families of dying patients are also suffering, and it can be challenging to communicate with them as well. Honesty is always the best course of action to take with families. They will know you are hiding the truth and may resent you for telling them something false. One of the best ways to talk to families is through active listening. Since these people may be highly emotional they have the need to be heard as much as the patient.
Active listening means that you reflect back to the person what they are communicating to you. If the family member is screaming and shouting you can respond with, "It seems like you are very angry. Can you tell me more about that?" You can also mirror them with, "I hear you saying that your mother isn't being cleaned enough. Is that what you are trying to say?" Keep eye contact, nod, and use encouraging words, such as, 'go on' or 'tell me more'. This can help with any emotional situation from anger to sorrow to apathy. Using this method, you can help the family come to terms with the truth of their loved one's prognosis.
Conclusion
Nursing isn't always about talking. Nurses teach and help patients communicate their needs, but something about silence is therapeutic too. Once again, openness and the willingness to be with the patient will either help them to talk or give them a much-needed rest. Communication isn't always about finding out how a person feels. It can be about quietly projecting the energy that you are here, you are willing to listen, and you won't judge. That is the best therapeutic gift you can give your patient.
---
[show_more more="Show References" less="Hide References" align="center" color="#808080″]
References
[/show_more]
Author
Lynda is a registered nurse with three years experience on a busy surgical floor in a city hospital. She graduated with an Associates degree in Nursing from Mercyhurst College Northeast in 2007 and lives in Erie, Pennsylvania in the United States. In her work, she took care of patients post operatively from open heart surgery, immediately post-operatively from gastric bypass, gastric banding surgery and post abdominal surgery. She also dealt with patient populations that experienced active chest pain, congestive heart failure, end stage renal disease, uncontrolled diabetes and a variety of other chronic, mental and surgical conditions. See Educator Profile
It's not done until it's documented