Note: This article is intended for NDIS workers and providers. For a more clinically-focused article on enteral feeding, see Caring for Enteral Tubes.
National Disability Insurance Scheme (NDIS) support workers may need to care for NDIS participants with an enteral (feeding) tube in place. This care should be performed in accordance with a mealtime preparation and delivery plan that has been developed by an appropriately qualified health practitioner (e.g. a dietician, speech therapist or occupational therapist).
This article will outline the enteral feeding responsibilities of workers under the NDIS.
What is Enteral Feeding?
Enteral feeding is the delivery of liquid nutritional support through a tube inserted into the gastrointestinal tract. It is used for people who are unable to meet their nutritional requirements through oral intake. This may be because:
Their oral intake is inadequate (e.g. poor appetite), or
They are physically unable to intake orally in a safe way (e.g. dysphagia, reduced level of consciousness).
(DAA 2018)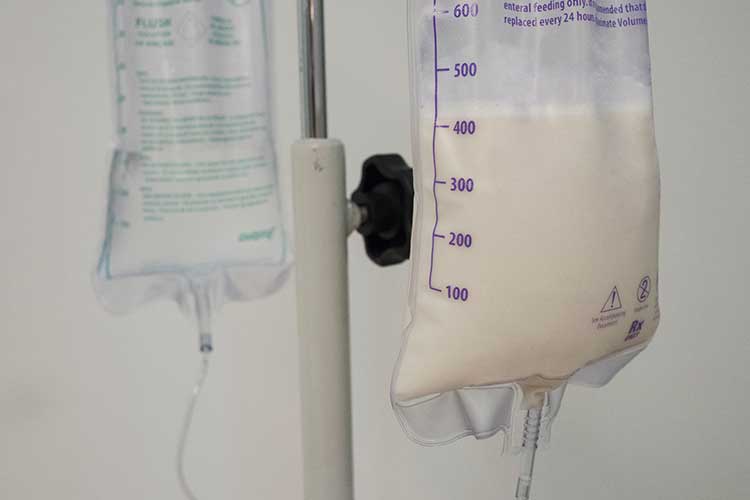 Enteral feeding may complement oral intake or be used completely in place of oral intake (Dix 2018).
Routes of Enteral Feeding
There are three sites on the body where an enteral feeding tube may be in place. These include:
Gastric (stomach)
Duodenum (small intestine)
Jejunum (small intestine)
(WA Country Health Service 2019)
Furthermore, different kinds of tubes can be used to access each of these sites. NDIS workers may encounter:
(Ausmed 2021; Cancer Research UK 2020)
Note: General support workers under the NDIS can support participants receiving PEG feeding. However, a participant who is receiving NG feeding, or is at higher risk of complications, requires high intensity support by specialised, more skilled or more experienced support workers (NDIS 2018; Sublime Care 2019).
Enteral Feeding NDIS Quality Indicators
Enteral feeding is a requirement of the NDIS Practice Standards under the High Intensity Daily Personal Activities Module.
This Practice Standard aims to ensure that NDIS participants who require enteral feeding and management receive nutrition, fluids and medicines that are appropriate, relevant and proportionate to their individual needs (NDIS 2020).
Under these standards, NDIS providers must meet the following quality indicators:
Participants are enabled to participate in the assessment and development of an enteral feeding and management plan. This plan identifies possible risks, incidents and emergencies, and what actions need to be taken to manage these situations, including the escalation of care, if necessary. The participant's health status is reviewed regularly (with their consent)
Staff members managing enteral feeding are informed by appropriate policies, procedures and training plans
Staff members managing enteral feeding have received all necessary training from a qualified health practitioner or another appropriately qualified individual.
(NDIS 2020)
Responsibilities of NDIS Workers
Notes:
The replacement of NG tubes must only be performed by an appropriately qualified health practitioner
Support workers can respond when PEG tubes become dislodged, however, they can only do so if the balloon device tube is in position and stable, and they are being supervised by a health practitioner.
(NDIS 2018)
Appropriately qualified and trained NDIS workers who are involved in enteral feeding and management may be responsible for:
Following infection control procedures
Confirming the participant's need and consent for enteral feeding
Introducing food via the enteral tube, according to the participant's mealtime preparation and delivery plan
Monitoring the rate and flow of feeding, and adjusting this if necessary
Keeping the stoma site clean
Monitoring and reporting all signs of infection
Ensuring the tube is positioned correctly
Monitoring equipment
Following procedures in order to respond to issues such as blockages
Following procedures in order to document requests to review mealtime plans, where required
Consulting with supervising health practitioners in order to gain an understanding of the participant's care requirements
Identifying and responding to symptoms that may require interventions, for example, reflux, unexpected weight gain or loss, dehydration, allergic reaction or poor chest health.
(NDIS 2018)
High Intensity Support
High intensity support is required when a participant has more complex needs or is at increased risk of complications, for example:
The participant frequently dislodges their enteral tube due to behavioural factors
The participant is at high risk of choking and aspiration due to severe epilepsy, severe dysphagia or complex physical disability
The participant is unable to feed themselves
The participant has complex communication (e.g. is non-verbal).
(NDIS 2018)
Required Knowledge
NDIS workers who support enteral feeding are required to have knowledge of:
The anatomy of the digestive system
The components, functions, cleaning and maintenance procedures of enteral feeding equipment
Stoma care requirements and procedures
The risks that may occur if the participant's mealtime preparation and delivery plan are not followed, and how to explain these risks to carers and other parties.
(NDIS 2018)
NDIS workers who are qualified to provide high intensity supports are required to have knowledge of:
The impact of health conditions and complications that may be associated with enteral feeding, such as related cardiac or respiratory disorders, highly complex physical disability or severe epilepsy
Symptoms that indicate an escalation of care, such as poor chest health, dehydration and reflux
Factors that require immediate adjustment, such as rate, flow and quantity of food
Positioning and turning to maintain airway safety and prevent choking
Pressure care.
(NDIS 2018)
Additional Resources
References