As long ago as 1984, experimental programs were in place to deliver home-based phototherapy to healthy newborn babies with physiological jaundice.
Bilirubin levels were found to decrease just as rapidly in the home-based group as those treated in hospital, proving that home phototherapy can be a safe and effective alternative to hospital-based treatment (Eggert, Pollary, Folland and Jung 1985).
Despite these encouraging results, home-based care wasn't routinely offered. Today, however, home-based phototherapy is once again emerging as a popular option for jaundiced infants who are otherwise healthy and who have motivated, capable parents.
Phototherapy at Home
Given the benefits of home-based management, Malwade and Jardine (2014) ask the all-important question: 'When is home-based phototherapy considered safe and appropriate?'
The obvious answer is that only cases of uncomplicated, mild to moderate physiological jaundice should be considered, but this would still include a large number of babies who would benefit from early discharge and improved bonding with their parents.
To help clarify this answer many hospitals have drawn up specific criteria to be followed. For example, guidelines created by the National Institute of Clinical Excellence (NICE 2015) recommend that all cases are reviewed by a paediatrician before any treatment starts and referred only if they meet safety criteria. Nursing management for home-based therapy usually includes visiting up to three times per day to monitor and assess the baby's wellbeing and take blood for testing.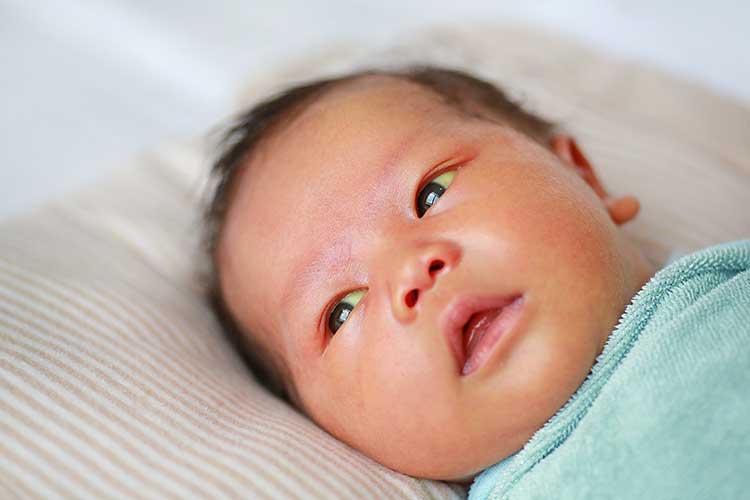 Inclusion Criteria
Unconjugated hyperbilirubinaemia;
A TSB not greater than 50micromols/L above the treatment line; and
Conjugated bilirubin not greater than 10% of TSB.
The baby should:
Be feeding well;
Be more than 24 hours of age;
Be greater than 37 weeks' gestation; and
Have a birth weight greater than 2500 grams.
Parents should be:
Able to transport their baby to hospital if needed; and
Confident to follow written and verbal instructions.
(QLD DoH 2019)
Exclusion Criteria
Not all cases of neonatal jaundice are suitable for home based-treatment. For example, the following criteria would preclude home treatment:
Jaundice in the first 24 hours of life;
Poor feeding;
Temperature instability;
Lethargy;
Alloimmune haemolytic disease;
Asphyxia/acidosis;
Infection; and
Abnormal liver function tests.
(QLD DoH 2019)
NICE (2015) also offers the following guidelines for more serious cases that require emergency admission to a neonatal or paediatric unit:
Jaundice with features of bilirubin encephalopathy (for example atypical sleepiness, poor feeding or irritability); and
Jaundice first appearing at less than 24 hours of age.
Medical assessment should also be arranged within six hours in the following circumstances:
Jaundice first appears at more than 7 days of age;
The neonate is unwell (for example, lethargy, fever, vomiting, irritability);
Gestational age of less than 35 weeks;
Prolonged jaundice is suspected (A gestational age of less than 37 weeks with more than 21 days of jaundice; or a gestational age of 37 weeks or more with more than 14 days of jaundice);
Poor feeding and/or concerns about weight, particularly in breastfed infants; or
Pale stools and dark urine.
Phototherapy Blankets
Today, home-based phototherapy delivered by Light Emitting Diode (LED) phototherapy blankets is re-emerging as a popular option for home-based treatment. These blankets wrap around the baby for a prescribed length of time and allow them to be held, cuddled and fed as they normally would.
Using Intensive Light LED Blanket phototherapy during feeding also helps to prevent interruption of intensive phototherapy for feeding and bonding purposes (NHS England 2018).
Walls (2004) reports that following a brief training session on the use of equipment, feeding, skin care and temperature control, the majority of parents and community midwives seem happy with home-based care and report positive results.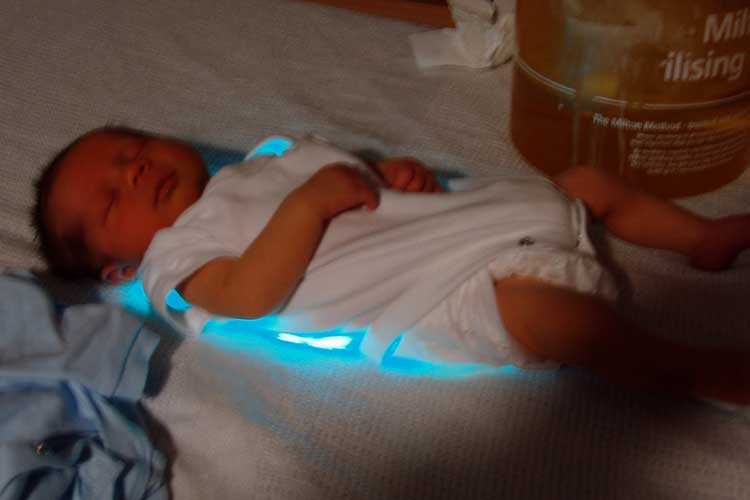 Evaluating the Research
As with many medical innovations, although the evidence supporting home phototherapy is increasing, there is still a lack of good quality research to either support or refute treatment at home (Snook 2017).
A recent Cochrane review compared home-based phototherapy with hospital-based phototherapy for uncomplicated jaundice in full-term newborns, yet found no studies that met the eligibility criteria and concluded that there is currently insufficient high-quality evidence to either support or refute the use of home phototherapy for uncomplicated newborn jaundice (Malwade & Jardine 2014).
Home-Based Phototherapy Can Offer Significant Benefits
Increasing pressures on limited resources often result in innovation and the search for more cost-effective ways of delivering a service. Home-based phototherapy is a good example of this.
Hospital at home services allow resources to be used in a more effective way, cutting the costs of in-patient care and improving user satisfaction (NHS England 2018). For example, home-based phototherapy can result in:
Better outcomes: A reduction in hospital admissions and a reduction in the average length of stay for babies with neonatal jaundice.
Better experience: Home-based care enables parents to have continued contact with their baby, providing an adaptable and effective service to parents and babies in their own home. Parents report feeling less stressed and more reassured about the quality of care provided.
Better use of resources: Although home-based treatment requires an immediate financial outlay to purchase phototherapy blankets, there is also a corresponding reduction in the cost of using hospital resources.
(NHS England 2018)
Jackson, Tudehope and Willis (2000) reported on 32 babies with uncomplicated physiological jaundice who received phototherapy at home. All babies showed acceptable reductions in their serum bilirubin on home therapy, and none required hospital readmission.
Their families were highly satisfied with the home program and recorded high levels of confidence in their therapeutic responsibilities. The cost of delivering the home program was also significantly less than a comparable hospital stay and easily facilitated by the community midwives.
This is an area where ongoing research is both timely and important, and studies such as the one conducted by Evelina London (2019) are paving the way forward. In this study, babies were considered for home treatment if they had been receiving phototherapy on the postnatal ward for at least 48 hours, had stable or falling bilirubin levels and could feed well.
The parents of these babies were trained to use the biliblanket and an outreach nurse from the neonatal unit visited them daily to test the babies' bilirubin levels.
Conclusion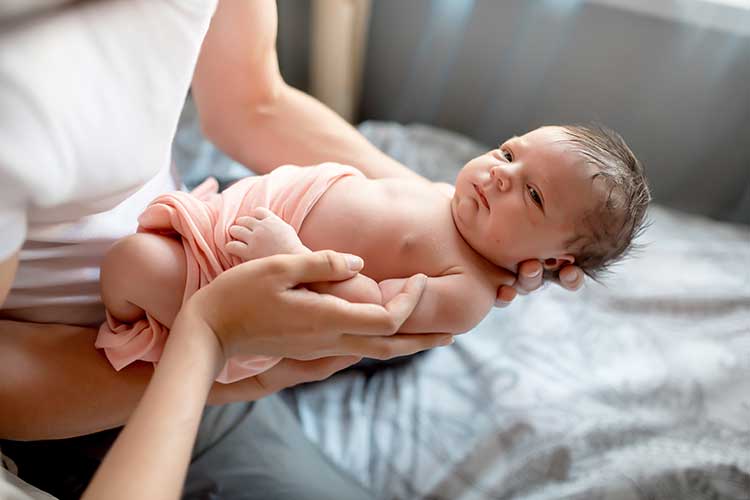 Whilst home phototherapy treatment is not yet considered routine, it could benefit many babies, providing the right training and safety measures are in place.
As Walls (2004) says, with appropriate training and enthusiastic community support, treating neonatal jaundice at home appears to be feasible, safe, and well accepted by families and medical staff alike.
Additional Resources
References