The following article is designed to complement A Guide to Video Telehealth Consultations.
Evolution often arises during times of crisis such as the current COVID-19 pandemic. New technologies are already emerging along with more cost-effective, resource-sparing ways of working remotely.
Telehealth is one such example that is currently transforming the healthcare landscape. Driven by the need for social distancing, it offers safe and practical access to cost-effective, quality remote care.
As Rutledge et al. (2017) suggest, telehealth technology can offer many benefits across a broad spectrum of healthcare needs. Patient access to care and advice can be increased whilst costs are decreased, and for those patients who need frequent input or daily monitoring, it can offer significant peace of mind, immediate feedback on wellbeing and the convenience of easy scheduling and attendance of appointments (Bashir 2018).
Not only does telehealth provide easier access to care, but it's also been shown to increase patient involvement and improve self-care for patients with chronic health complaints, or those who may be transitioning from hospital to home (Day, Millner and Johnson 2016).
Misremembering and Misunderstanding
Misremembering or misunderstanding information from a healthcare consultation is a common problem, with an estimated 40 to 80% of information either forgotten immediately or remembered incorrectly.
As Morony et al. (2018) suggest, this is a problem that only gets worse for telephone consultations, given that up to 55% of the impact for in-person consultations can be attributed to visual and non-verbal communication.
It's not surprising then, that telephone consultations involve more frequent patient requests for information to be repeated. This can be a particular challenge for people who may be experiencing high levels of anxiety during the call, or may be suffering from some level of cognitive impairment.
In other words, the value of a telephone consultation becomes questionable if callers immediately forget or misinterpret the information or instructions they have been given (Morony et al. 2018).
General challenges to effective phone communication include:
Developing new communication skills to compensate for a lack of visual information;
Difficulty assessing the patient's understanding;
Difficulty managing any misunderstandings; and
Maintaining distinctive assessments for routine calls.
(Rothwell et al. 2011)
Despite these obvious challenges, use of the telephone to provide remote health care is set to grow given the current shift from in-person to remote consultations. However, there is now a growing need to match the use of technology with improved training in telephone communication skills.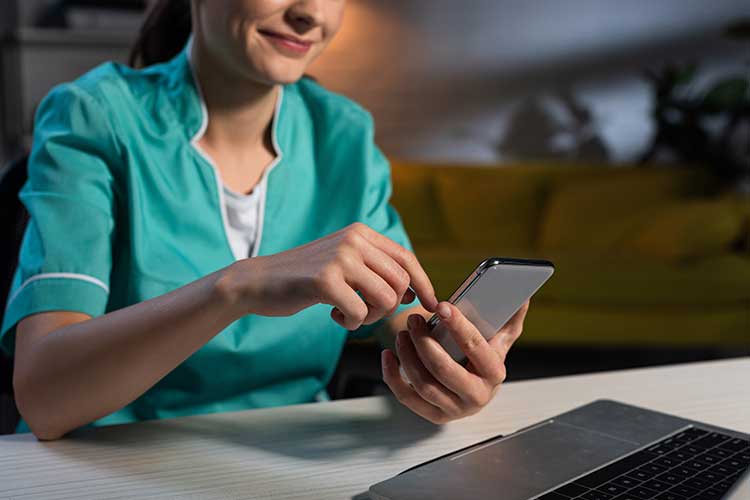 New Skills and Competencies
As telehealth technologies begin to emerge as a potential solution to social distancing, much of the training that is being offered centres around the technical aspect.
Training on soft skills or 'screen side etiquette' - which is so important for a successful consultation - is less common, yet the argument could be made that advanced communication skills are needed more than ever to compensate for a lack of visual cues.
For example, Morony et al. (2018) describe a communication technique called Teach-Back in which patients are invited to explain back, using their own words, the information or action plans discussed with the healthcare provider.
It's an example of an interactive communication loop that places the responsibility of ensuring information has been correctly understood with the telehealth professional.
As the many potential benefits of telehealth are explored, several key benefits are emerging:
The frequency and effectiveness of patient interactions can be enhanced;
Patients have much easier access to healthcare advice and care;
It becomes easier to coordinate multidisciplinary care;
Consultations become more cost-effective; and
Patients benefit from the ease and convenience of home-based consultations.
To maximise the effectiveness of remote consultations, van Galen et al. (2018) stress the need for a clear set of telehealth communication competencies as many health care professionals are not yet trained, or are insufficiently trained, to use these new technologies effectively.
Key skills that are emerging as important competencies for nurses that provide telehealth include:
Coaching skills;
The ability to combine clinical experience with telehealth;
Good communication skills;
Appropriate clinical knowledge;
Ethical awareness; and
A supportive attitude.
(van Houwelingen et al. 2016)
As telehealth becomes a larger part of the health care landscape, clinicians are preparing to operate technology-based systems for conducting routine care and exchanging information.
Less well-defined are the interpersonal skills needed for the delivery of telehealth care, for example, enhanced communication skills that can help build therapeutic relationships and optimise outcomes.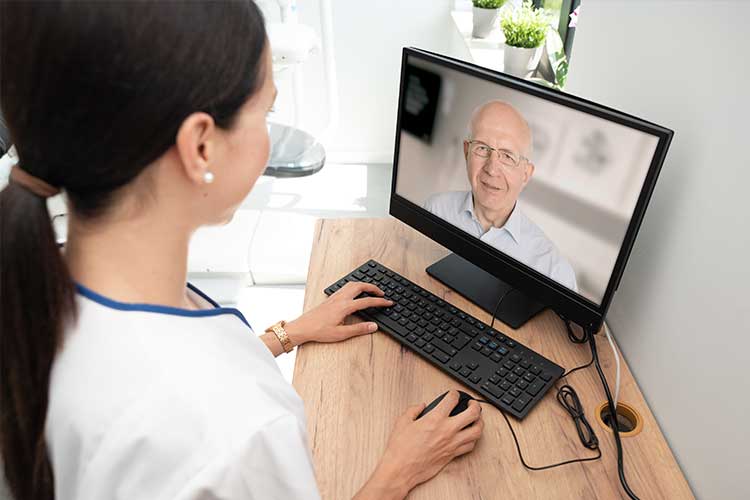 Telepresence
Based on recent research conducted by Henry et al. (2018), several themes were identified as being important for establishing a therapeutic relationship or 'telepresence'. They include:
Pre-interactional preparation;
Verbal communication and telemedicine etiquette;
Non-verbal communication;
Environmental considerations; and
Operational training.
Many competencies needed for telehealth such as good communication skills and clinical knowledge are already a fundamental part of nursing care, but within these broad skills new and specific competencies are emerging, for example:
The ability to put patients at ease when they feel insecure about using technology;
Maintaining patient-centred care;
Monitoring patient satisfaction; and
Quality control and assessment of telehealth sessions.
Enhanced Self-Care
Perhaps one of the main benefits of telehealth is enhanced patient participation in their own self-care. As the focus of control shifts from the practitioner to the patient, it becomes easier for patients to feel more involved in decision making and self-care planning.
As Day, Millner and Johnson (2016) suggest, many patients also report understanding their health issues more clearly.
Meeting the Challenge of New Technology
With any new technology, challenges can and do occur. For example, it may be much harder to ensure a patient's right to privacy, physical examinations cannot be performed, key information may be lost and mistakes in differential diagnosis may become more common. As Morony et al. (2018) point out, issues of patient safety in telehealth are still largely unexplored, and just because the current need for social distancing makes telehealth an 'ideal solution' at the moment, the need for in-depth research shouldn't be ignored.
As van Houwelingen et al. (2016) note, new competencies will be needed to guide future training, but once they have been established, telehealth has enormous potential to address the increasing demand for care alongside an under-resourced workforce.
At its best, telemedicine has the potential to offer outstanding and cost-effective care. It can help improve self-care, facilitate information delivery and enhance the nurse-patient relationship.
All of these benefits must still be measured against the risks and challenges of remote care and the absence of physical examinations. Yet, for patients who feel vulnerable, unsafe or unsupported, the extra reassurance and support that can come from a short telephone call can be a game changer.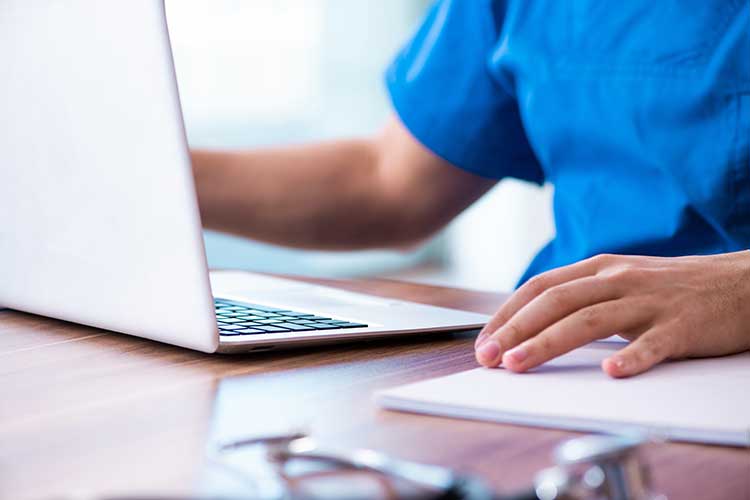 Additional Resources
References
Test Your Knowledge
(Subscribers Only)
Question 1 of 3
What percentage of information from healthcare consultations is either forgotten immediately or remembered incorrectly?
Start an Ausmed Subscription to unlock this feature!