Being involved in a patient's health journey while they are receiving palliative care enables caregivers to assist with improving the patient's quality of life and providing spiritual and psychosocial support.
While assessing their clinical needs, it would be astute to consider the importance of the client's ability to complete or participate (as able) in basic activities of daily living (ADL).
Read: A Palliative Approach to Care
Basic Tasks as an Important Goal
Healthcare providers must be able to adopt a flexible approach towards care assessment and developing care plans. Research has found that terminally-ill patients have a feeling of relative wellbeing when they are able to perform activities in daily life. The importance of being able to perform basic human needs activities (independently or with assistance) should be discussed as a viable goal for patients that you care for.
Often seen by care staff as activities that can easily be hurried, it should not be forgotten that being able to carry out daily tasks (which were often previously automatic tasks for the patient) impacts greatly on your patient's self-worth and self-esteem. These activities can be an important goal and may also have implications for work, social life relationships and the home environment. Engaging patients and their family members or caregivers in constructive conversations regarding care planning can address functional decline and the feeling of helplessness.
Participation in healthcare goals can help alleviate the feeling of powerlessness, loss of control or lack of choice, and thus help to boost morale and consequently, quality of life.
Assessment Through The Trajectory Of The Illness
During the trajectory of an illness, priorities change with the fluctuation of symptoms. Understanding and being aware of how risk factors affect the way that symptoms are expressed will help caregivers communicate with patients and discover underlying needs. Continual assessment can help uncover the masquerading of symptoms and your patient's ability to participate in their daily activities.
Symptoms may be influenced by cognitive impairment or emotional distress. When a patient says they feel fatigued, they may be depressed, or if they say they are anxious, they may also be suffering from pain or shortness of breath. Be aware of what your patient can achieve daily, remembering that he completion of a simple ADL task may be the emotional boost that is needed for that day.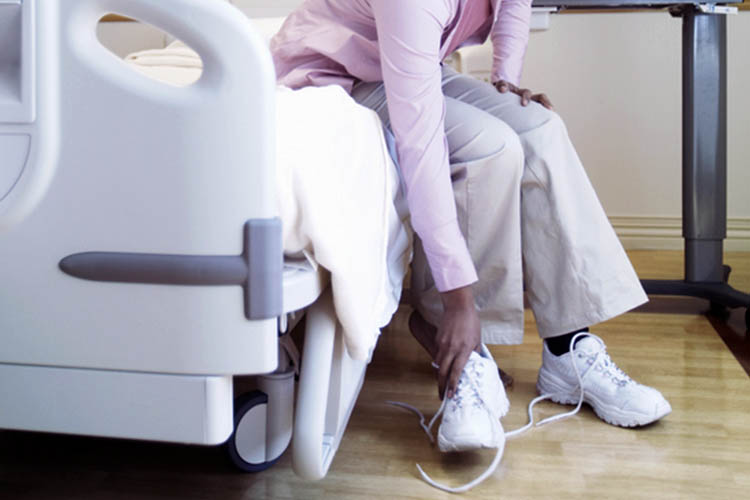 Different Components of ADL Assessment
Personal activities such as bathing, dressing, personal hygiene and grooming may be achieved with the use of assistive devices, adapting the home to suit the patients' needs, or by prioritising activities.
Household activities including housework and leisure activities (e.g. watching television or exercising) may be achieved by the re-training of actions or receiving help with some activities, thus sustaining self-reliance for the more important tasks. Adapting the environment to suit the patient's needs can also be beneficial.
Helping the patient and their loved ones understand the importance of maintaining their role in the family during the illness and encouraging involvement in family decisions will assist with the emotional wellbeing of the patient.
Setting up work areas or rearranging room functionality can assist the patient to continue to participate in work, rehabilitation and self-training programs.
Referral to other health professionals (such as occupational therapists) will allow caregivers to utilise their expertise in assessing the client's physical needs, and in turn, will boost the patient's psychological status.
When it's All Said and Done
Loss of the ability to complete ADLs is often emotionally and physically distressing for patients and may lead to a loss of self-worth. Caregivers who are acutely aware and place special emphasis on a patient's changing needs will be able to assist them to prioritise goals and plans. Care should be continually revised and quickly assessed to cater to these changes. Planning ahead with patients and relatives when relevant will also enable care contingencies to be easily adapted as indicated, allowing for a smooth transition in changing circumstances.
Additional Resources
References
Lindahl-Jacobsen, L, Gilså Hansen, D, La Cour, K & Søndergaard, J 2014, 'Evaluation of a Complex Intervention to Improve Activities of Daily Living of Disabled Cancer Patients: Protocol for a Randomised Controlled Study and Feasibility of Recruitment and Intervention', BMC Health Services Research, vol. 14, pp. 194, viewed 14 July 2016, https://bmchealthservres.biomedcentral.com/articles/10.1186/1472-6963-14-194
Strasser, F 2006, 'Palliative Care: Evaluation Instruments in Daily Clinical Practice', Annals of Oncology, vol. 17, supp. 10, viewed 18 July 2016, https://www.journals.elsevier.com/annals-of-oncology