Your patient's condition is deteriorating and you need to tell the doctor. You have your vitals, your chart, and a full head of information that you want to blurt out as soon as their voice crackles across the line. Chances are, this strategy of communicating with doctors is not going to get you far.
The shotgun method of nurse-doctor communication – double-barrelled, give 'em everything you've got – is only going to make them confused and you frustrated. What's worse, you may not make your point effectively, and the patient could suffer because of it. You have a very busy, often impatient, person listening to you. You have to make the most of your time, and the best way to do that is with organisation.
One such method of organisation is the ISBAR method. It stands for identify, situation, background, assessment, and recommendation. Merely having this structure in your head when picking up that phone to the doctor can make the call flow a bit more smoothly.
The doctor on the other end will get a clear picture, you will get all of your information out concisely, and the patient will get the treatment they need.
Identification
First, identify who you are, your role and who you are talking about (your patient or client).
Situation
The situation part of ISBAR seems self-explanatory, but it can often throw you off when dealing with a patient you are not sure about or just have a bad feeling about.
If the patient fell or has a low blood pressure, it's easy to state the situation, but what if the patient is diaphoretic, complaining of 'just not feeling right', and their vitals are fine? It gets a little more difficult to state the situation when the patient is not presenting something black and white, so you should take some time to think about what is prompting your call to the doctor. What exactly is it that is bothering you? What do you think the doctor can do for you?
In this section of the report, state concisely whom you are calling about and what prompted the call.
Background
The background section of this approach has the most variability built into it. If the doctor you are speaking to is an on-call doctor and doesn't have the slightest idea of who the patient is, you are going to have to give them the basics of the patient's history.
However, if the patient has been going to this doctor for 30 years, you probably wont need to give as much background.
The timeline leading up to the situation is important. What was the patient doing earlier in the day that may have an impact on the current situation? Did they have some incident or event that has some bearing on how they are acting now?
This type of information is critical in giving the doctor a complete clinical picture of the patient's condition.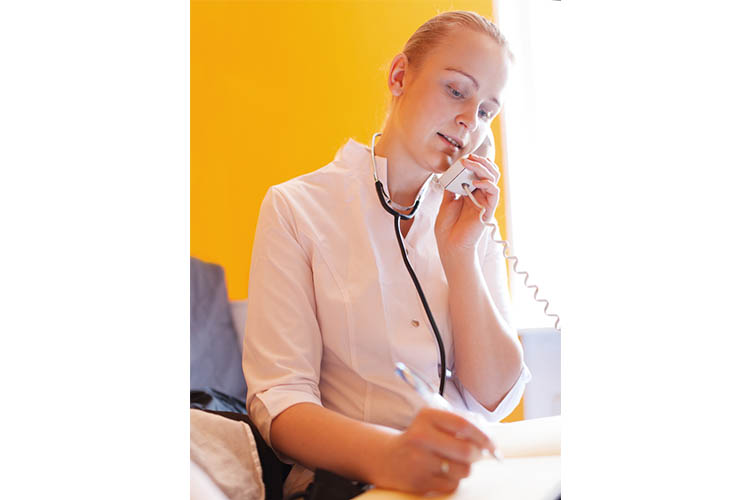 Assessment
All doctors will ask for them, regardless of the reason you are calling. Pathology, recent test data and any other collected information from the history can also be given at this time. Included in this section is other data that may not fit anywhere else. You can insert how the patient looks to you personally.
Do not be afraid to let the doctor know where your concerns lie. If you do not express that your patient is worrying you, then the doctor will not know enough to be worried themselves. They are basing all of their decisions on what you are telling them. If you leave off your gut feelings that prompted you to call, they are not going to understand the severity of the situation.
Trust yourself and your assessment skills, and tell the doctor what you see.
Recommendation
Recommending a solution to a problem might feel a bit awkward to a nurse, especially newer ones, but doctors are often open to collaboration and do not mind working in tandem with a nurse. However, you do not want to be demanding. Often phrasing your thoughts as a question can be a great way of asking for something you think might help your patient.
For instance, you could say that since the patient is so short of breath, would it be possible to get them a stat portable chest x-ray? This allows the doctor to understand your line of thinking and opens the lines of communication between the two of you. If they agree, you got what you wanted. If they disagree, they will likely explain why. By recommending a course of action, you put the ball in the doctor's court and give them a clear line of action that is going to help your patient.
After all, you know your patient best because you are with them (see Communication Skills). The doctor knows the medicine. Collaborating with ISBAR, you can come up with a plan to get the patient healthy.
Author
Lynda is a registered nurse with three years experience on a busy surgical floor in a city hospital. She graduated with an Associates degree in Nursing from Mercyhurst College Northeast in 2007 and lives in Erie, Pennsylvania in the United States. In her work, she took care of patients post operatively from open heart surgery, immediately post-operatively from gastric bypass, gastric banding surgery and post abdominal surgery. She also dealt with patient populations that experienced active chest pain, congestive heart failure, end stage renal disease, uncontrolled diabetes and a variety of other chronic, mental and surgical conditions. See Educator Profile