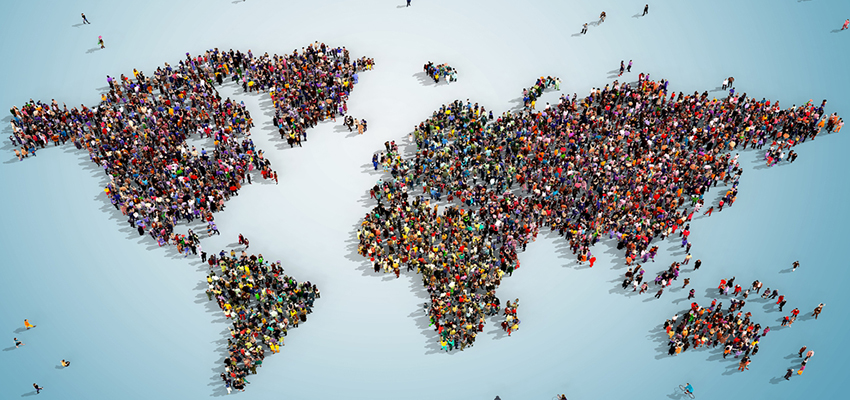 "I went to have some blood tests. The person doing the test was asking me questions but I couldn't understand anything. There was no interpreter and I couldn't ask for one because I don't speak any English. Some days later a man called me on my mobile phone. He was talking in English. I tried to get someone off the street to listen and translate but the doctor just kept talking, talking and then hung up the phone. I don't know how to get the results of my tests." (Brough, 2006, p14)
Australia is one of the most culturally and linguistically diverse nations in the world. Almost 25% of the population were born overseas, over 200 languages are spoken, and 116 religions practiced (Australian Bureau of Statistics 2016). Although all Australians have the right to equitable healthcare, patients from culturally and linguistically diverse (CALD) backgrounds (including Aboriginal Peoples) experience almost twice as many adverse events as English-speaking patients (Multicultural Health Communication 2013), and they are more likely to experience medication errors, misdiagnosis, incorrect treatment, and poorer pain management.
Misunderstandings, miscommunication, and culturally-unsafe care by healthcare professionals are frequently reported (Johnstone & Kanitsaki 2006), and CALD patients often describe feelings of powerlessness, vulnerability, loneliness and fear when undergoing healthcare (Garrett et al. 2008).
While there is no single cause of the inequalities in healthcare experienced by CALD patients, research has identified that clinical encounters that do not acknowledge and address cultural factors contribute significantly to adverse patient outcomes and health inequality (Johnstone & Kanitsaki 2008). Thus, practical strategies for improving the provision of culturally competent care are needed. For example:
Adapting service delivery to be consistent with each patient's cultural values and beliefs (such as the provision of gender-specific rooms)
Developing the capacity for self-awareness and identification of personal biases and prejudices (which we all have)
Accessing interpreters when required (and more often than is the norm in many settings); and
Undertaking cultural assessments as a part of routine clinical practice.
In this article I will focus specifically on how to undertake a cultural assessment. It is recognised that assessment underpins safe practice, and nurses are all too familiar with the need to routinely conduct fall risks assessments, pressure area assessments, nutrition assessment and vital signs etc.. Although cultural assessments are equally important, they are rarely a part of routine nursing care. The 'ABCD' mnemonic for cultural assessment (Kagawa-Singer & Backhall 2001) provides a structure for undertaking a cultural assessment that is easy to remember and put into practice.
Attitudes
Take the time to explore the attitudes and values of the patient and their family with regards to:
The meaning of illness
Truth telling in relation to diagnosis and prognosis
Communicating about death and dying
Traditional healing practices versus Western healthcare.
Beliefs
Ask about the patient's and family's religious and spiritual beliefs, especially in relation to the meaning of death and dying, the afterlife, healing and miracles
Ask how the patient and their family make sense of their illness and find strength in times of suffering
Ask how you can best support their spiritual and religious needs and practices.
Context
Determine the historical and political context of the patient's life, including:
Place of birth
Refugee or immigrant status
Socioeconomic status
Language/s spoken
Degree of assimilation into Western culture
Degree of support from and integration with their cultural community.
Also identify community resources that may be of assistance to healthcare professionals, patients and family members, such as translators, healthcare workers, community groups, religious leaders, and traditional healers.
Decision-Making Style
Identify the general decision-making style of the cultural group, and specifically, the patient and their family. Explore whether individual or family decision-making processes are used. Ask questions such as:
How are decisions about healthcare made in your family?
Who is the head of the family?
Is there anyone else I should talk to in your family about your condition?
When used consistently, the 'ABCD' mnemonic for cultural assessment will help you to improve communication with CALD patients and avoid stereotyping. Ultimately, undertaking cultural assessments will help healthcare professionals deliver safe and person-centred care to all people regardless of their race, ethnicity, culture or language.
[show_more more="Show References" less="Hide References" align="center" color="#808080″]
References
Australian Bureau of Statistics 2016, Migration, Australia, 2014-15, cat. no. 3412.0, ABS, Canberra, viewed 17 November 2016, http://www.abs.gov.au/ausstats/abs@.nsf/lookup/3412.0Media%20Release12014-15
Brough, C 2006, Language services in Victoria's Health Systems: Perspectives of Culturally and Linguistically Diverse Consumers, Centre for Culture, Ethnicity and Health, Melbourne.
Garrett, PW, Dickson, HG, Young, L, Whelan, AK & Forero, R 2008, 'What do non-English-speaking patients value in acute care? Cultural competency from the patient's perspective: a qualitative study', Ethnicity and Health, vol. 13, no. 5, pp. 479-496.
Johnstone, M & Kanitsaki, O 2006, 'Culture, language, and patient safety: Making the link', International Journal for Quality in Health Care, vol. 18, no. 5, pp. 383-388.
Kagawa-Singer, M & Backhall, L 2001, 'Negotiating cross-cultural issues at end of life', JAMA: Journal of the American Medical Association, vol. 286, no. 3001, pp. 2993-9.
Multicultural Health Communication 2013, Fast facts on language culture and patient safety, viewed 17 November 2016
National Health and Medical Research Council 2005, Cultural competency in health: A guide for policy, partnerships and participation, viewed 17 November 2016, http://www.nhmrc.gov.au/guidelines/publications/hp19-hp26
[/show_more]
Author
Tracy Levett-Jones Visit
Professor Tracy Levett-Jones is the Director of the Research Centre for Health Professional Education at the University of Newcastle. Her research interests include: belongingness, clinical reasoning, empathy, interprofessional education, cultural competence, simulation and patient safety. Tracy has authored ten books, the most recent being 'Clinical Reasoning: Learning to think like a nurse' and Critical Conversations for Patient Safety'; as well as over 200 book chapters, reports and peer reviewed journal articles. Tracy has been the recipient of multiple teaching and learning awards and has been awarded over two million dollars in grant funding.