What is 'Diabetic Foot?'
Diabetic foot is the name given to the condition most commonly experienced by people with diabetic peripheral neuropathy. It results in an insensitive and often deformed foot (Better Health 2014).
An early sign of diabetic foot is when a patient displays an unusual manner of walking (Diabetic Foot Australia 2019).
In patients with this condition, even minor trauma can create ulceration (a break in the skin) on the foot. It can occur in patients with both Type 1 and 2 diabetes.
In people who have diabetes, their high or fluctuating blood glucose levels, decreased blood flow to the extremities and nerve damage will prevent the skin from repairing itself (Diabetic Foot Australia 2019).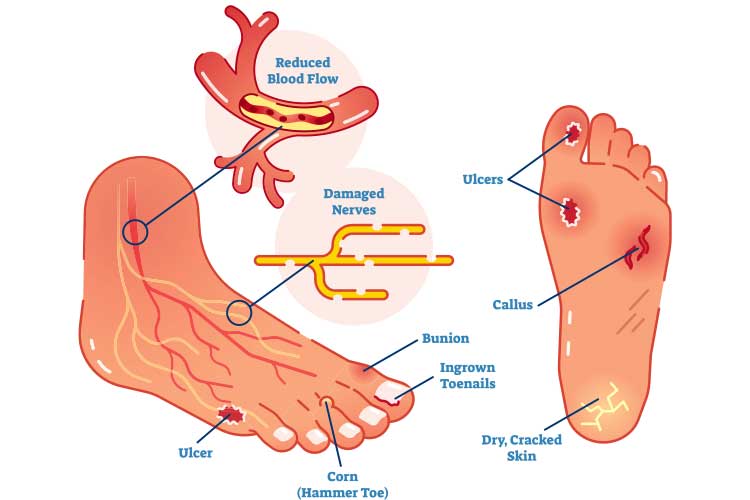 Diabetic Foot Presentation and Complications
Diabetic foot occurs due to neuropathic pain, tingling, weakness or reduced sensation in the feet.
A person who has diabetes is unlikely to notice that they have injured their foot, and furthermore, they are unlikely to notice that their condition is worsening. This is one of the reasons why this condition is so serious (Diabetic Foot Australia 2019; Diabetes Australia 2019).
The foot sores, cuts and ulcers incurred by the patient may become infected. These infections can potentially spread to the bone and ulcers can lead to tissue death.
As a result of this, the amputation of a toe, foot or even the lower leg may be necessary (BetterHealth 2014; Mishra et al. 2017).
Diabetic Foot in Numbers
Around 1.7 Million Australians have diabetes. Diabetes presents a considerable challenge to Australia's healthcare system, and is one of the fastest growing chronic conditions in Australia.
A recent survey conducted by the ABS found that for every four adults with diagnosed diabetes, there is one who is undiagnosed (Diabetes Australia 2019; AIHW 2018).
It is estimated that 280 Australians develop diabetes every day. Around 4,400 amputations are performed regularly at Australian hospitals each year and researchers believe that 85% of diabetes-related amputations are avoidable if correct care and prevention are observed (Diabetic Foot Australia 2019; Diabetes Australia 2019).
The solution most often suggested to patients is a daily foot care routine and regular foot monitoring with the help of a healthcare professional (Diabetic Foot Australia 2019).
Diabetic Foot Treatment
In the majority of cases, foot ulcers will heal if the correct procedures are followed.
It is worth noting that even the best wound care cannot compensate for ongoing damage to the wound bed, inadequately treated ischaemia or infection. Patients with a deep ulcer often require intensive treatment or may need to be hospitalised (Diabetic Foot Australia 2019).
The following treatment strategies are recommended:
The ulcer is to be protected and relieved from pressure;
Attend to skin perfusion;
Infection control;
Metabolic control and treatment of co-morbidity;
Wound-care;
Education of diabetic foot for patients and relatives; and
Preventative measures are taken to avoid recurrence.
Patients should be advised to seek immediate medical attention if they notice: an ulcer; unusual swelling; redness; blisters; ingrown toenail(s); bruising or cuts (Diabetes Australia 2019).
Prompt medical attention (not necessarily immediate but still within a week's time-frame) is to be advised if patients notice broken skin between toes; a callus; corn; changes in foot shape; cracked skin; or nail colour changes (Diabetes Australia 2019).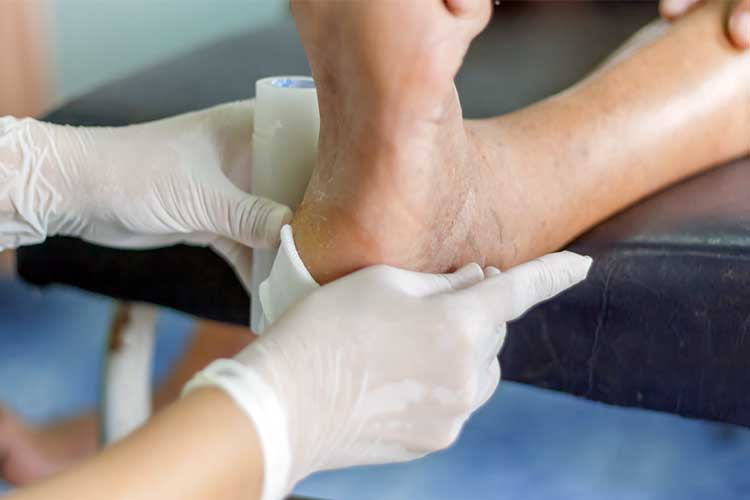 Preventing Diabetic Foot Conditions
The following preventative measures are recommended to avoid the escalation of this condition:
Assess all people with diabetes and determine their risk of developing foot complications;
Frequently inspect and examine the at-risk foot;
Educate the patient, family and healthcare providers;
Advise patients to wear appropriate footwear;
Attend to pre-ulcerative signs.
Recent Studies
A study conducted by the University of Wollongong in 2018 found that people with diabetic foot ulcers tended to have an overall low quality of life – even more so in those with larger ulcers, chronic ulcers, and ulcers complicated by infection (Diabetic Foot Australia 2019).
Researchers collected data from 12 different studies looking into health-related quality of life in people with diabetic foot ulcer (DFU) and found that patients had poor physical functioning, vitality and general quality of life (Diabetes Australia 2019).
Conclusion
The severity of diabetic foot should not be underestimated. As the prevalence of diabetes continues, diabetic foot will remain a prominent health issue.
Diabetic foot ulcer is globally-recognised as the primary cause of diabetes-related hospitalisations and amputation, with mortality rates comparable to many cancers (Diabetic Foot Australia 2019).
Education and prevention are vital to improving the quality of life in people with diabetes and to curbing high rates of avoidable amputations.
More Information / Support
Patients can find information about managing diabetic foot from Diabetic Foot Australia: https://www.diabeticfootaustralia.org/for-patients/
Healthcare professionals can also find useful information here: https://www.diabeticfootaustralia.org/for-health-professionals/
References
Test Your Knowledge
(Subscribers Only)
Question 1 of 3
Which of the following is <strong>not</strong> a preventative measure of diabetic foot?
Start an Ausmed Subscription to unlock this feature!