The potential risks of breech delivery are a concern for both pregnant women and midwives alike, with the majority of mothers opting for an elective caesarean section rather than attempting a vaginal breech birth.
In many cases, however, an external cephalic version offers a simple and practical solution that carries minimal risk and offers the potential for a normal delivery to take place.
Breech presentations tend to complicate about 3 to 4% of all term deliveries and are more common before term, with approximately 25% of cases presenting as breech before 28 weeks, falling to just 7% by 32 weeks (Evidence Based Birth 2018).
They are also more common in cases where there has been a previous breech presentation (RCOG 2010).
External Cephalic Version
The best known and most reliable method of turning the breech is an external cephalic version (ECV), which involves the manipulation of the fetus through the maternal abdomen to a cephalic presentation (RCOG 2010).
The procedure is usually offered from 36 weeks in nulliparous women and from 37 weeks in multiparous women. This typically results in about a 50% success rate when the practitioner is experienced in the procedure (Royal College of Midwives 2008).
More specific evidence can be found in a recent Cochrane review, which suggests that the optimal first attempt at a version is usually at gestational age 37 weeks or more (Evidence Based Birth 2018).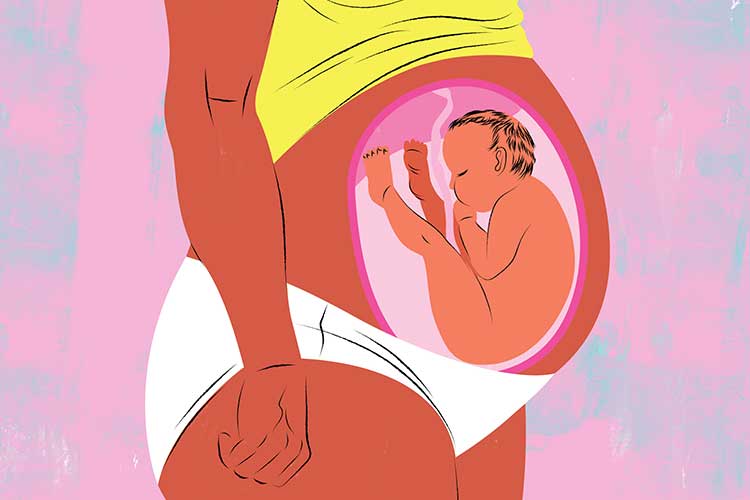 How Successful is ECV?
The most important considerations for mothers and midwives are how successful the ECV is likely to be, and what factors can influence the outcome.
Generally, ECV is considered to be most successful with multiparous, non-white women with a relaxed uterus, where the breech is not engaged and the head is easily palpable (RCOG 2010).
Success rates are also higher with increasing liquor volume. However, too much liquor can result in spontaneous reversion and insufficient liquor volume may hinder the success of the procedure. The Royal College of Obstetricians and Gynaecologists (2010) suggest that an overall success rate of 40% for nulliparous women and 60% for multiparous women can usually be achieved, though many factors may influence the success of the procedure. These include:
Race;
Parity;
Uterine tone;
Liquor volume;
Engagement of the breech; and
Use of tocolytic drugs.
(Royal College of Midwives 2008)
Risks and Complications Associated with ECV
Generally speaking, an external cephalic version has a very low complication rate. However, although rare, there are some risks associated with this procedure, including:
Premature rupture of the membranes;
Fetal tachycardia, or bradycardia;
Placental abruption; and
Premature labour.
(Royal College of Midwives 2008)
Other complications that are rarely seen include cord prolapse and vaginal bleeding. Overall, most researchers seem to agree that an external cephalic version is safe as long as it takes place in a setting where an emergency caesarean section could be performed if needed (Evidence Based Birth 2018).
Collaris and Oei (2004) note that the most frequently reported complications are transient abnormal cardiotocography (CTG) patterns, occasional persistent pathological CTG readings and rarely, vaginal bleeding. Even though these complications are rare, there is evidence that they may dissuade women from attempting a version even though their chances of having a caesarean section are reduced.
Contraindications of ECV
Absolute contraindications for ECV that are likely to be associated with increased mortality or morbidity include:
Births where caesarean delivery is required;
Antepartum haemorrhage within the last seven days;
Abnormal cardiotocography;
Major uterine anomaly;
Ruptured membranes; and
Multiple pregnancy, except delivery of a second twin.
Other considerations that might make ECV more complicated include:
Small-for-gestational-age fetus;
Proteinuric preeclampsia;
Oligohydramnios;
Major fetal anomalies;
Scarred uterus; and
Unstable lie.
(RCOG 2010)
Bearing all of these risk factors in mind, ECV should always be performed where facilities for ultrasound monitoring and immediate delivery are available. Cardiotocography should also always be performed after the procedure (RCOG 2010).
Evaluating the Research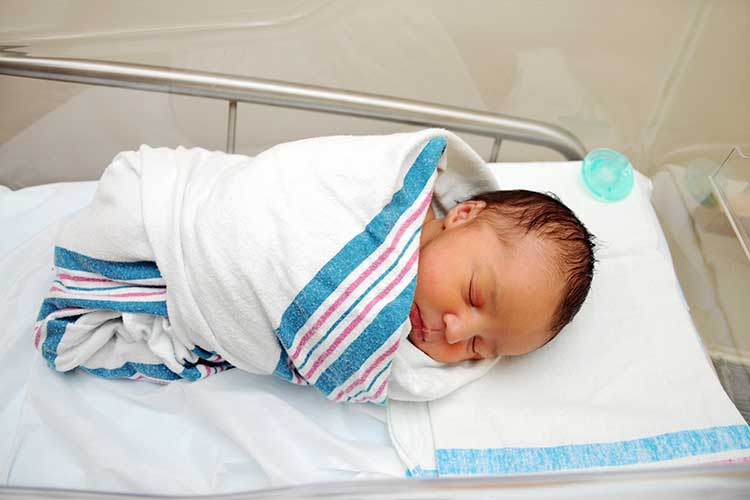 A recent Cochrane review that combined the results from eight randomised controlled trials comparing external cephalic version to no treatment at all found that attempting an ECV at term decreased the relative risk of breech birth by 58% and decreased the relative risk of caesarean section by 43%, with no difference in any other outcomes (Evidence Based Birth 2018).
However, Collaris and Oei (2004) suggest that although the risks are thought to be low, most studies used populations too small to allow definite conclusions to be formed on version-related risks.
Wickham (2015) suggests that an updated review by the Cochrane Collaboration confirms that ECV is effective, in that it reduces the number of babies who are still in a breech position at term, and that it reduces the number of caesarean sections. That said, none of the studies included in the review had sufficiently good data to draw conclusions about whether ECV reduces perinatal mortality and morbidity, perhaps because serious complications are known to be very rare.
Wickham (2015) makes another important point: much of the research on breech delivery has focused on interventive and medically-managed delivery, which often involves medicines, restricted maternal position, episiotomy and routine manipulation of the baby as it is born, rather than a more supportive approach that promotes physiological breech birth and where the practitioner intervenes only if there is a need to do so.
In other words, nearly all of the evidence in this area is based on a medicalised approach, which may present a biased view of the risk factors.
Many authors also hold the view that external cephalic version remains an underused procedure. For example, in a recent Australian study, only 66% of pregnant women had ever heard of ECV, with over 80% learning about it from friends or in books, rather than from care providers. Many participants also stated they would not want to risk a version procedure due to concerns about effectiveness and safety of the baby.
Again, in a similar Australian study looking at over 32,000 women who had singleton breech pregnancies, only 10.5% of the group attempted a version, although it is unclear from the study whether the low rate of version attempts was due to limited availability of ECV, or pregnant women declining the procedure (Evidence Based Birth 2018).
Reducing the Rate of Caesarean Sections
Avoiding the need for caesarean section or vaginal breech birth is the ultimate goal of ECV. As Ebner et al. (2015) note, ECV is generally considered to be a safe procedure and should be offered as an option based on informed consent. Attempting one or more external cephalic versions will result in a baby who is head-down at the time of birth in 33% of first-time mothers and 61% of women who have given birth before (Evidence Based Birth 2018).
Even though some women with breech presentations are not suitable candidates for ECV, the procedure does offer many women the potential to avoid major abdominal surgery, not only for their current pregnancy but for future pregnancies as well, as many would face repeat caesarean sections.
References