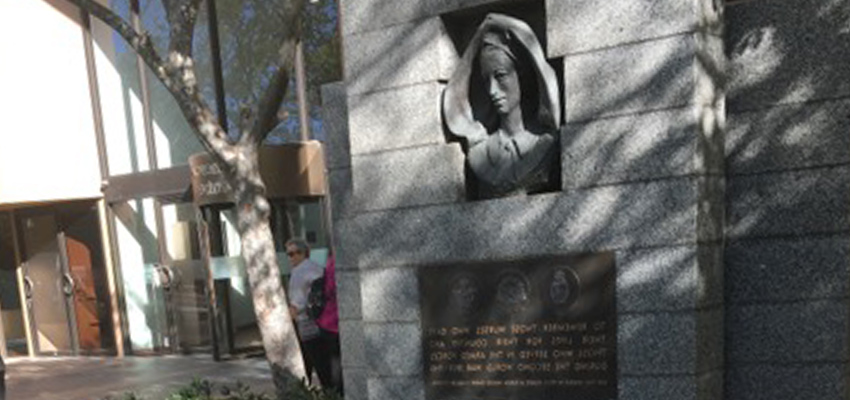 This article has been archived and is no longer being actively maintained for accuracy.
Lest We Forget
Nurses Memorial Centre, ANZAC Commemorative Service
held on Sunday, 17 April 2016
The importance of Anzac Day to Nurses can never be underestimated. Every year prior to Anzac Day, a special ceremony is held at the Nurses Memorial Monument on St Kilda Road, Melbourne. This monument commemorates Nurses who died during World War 2 and includes an inscription, which reads:
"… May they kindle in your hearts a torch
whose flame shall be eternal'.
The Nurses Memorial Centre was established by Victorian Nurses who had returned from World War 2, having survived the horrific atrocities of that conflict. Some of these Nurses had been held in captivity in Sumatra. This includes the late Betty Jeffrey OAM, and Vivian Bullwinkle AO, MBE, ARRC, ED, FNM. The achievements of these truly remarkable Nurses are deeply embedded in the history of Australian nursing.
The Anzac Service is dedicated to the Nurses who gave their life and health in service to their country in times of war and peace. This moving ceremony attracts a large group of current and retired Nurses, community members and school students who all gather to pay their respects. It was pleasing to see many student Nurses present this year.
The wonderful voices of the KeyTones Choir sing at this event, which includes the moving lyrics of the Captives Hymn which was composed by Margaret Dryburgh. Margaret was an English woman who was a prisoner of war held captive alongside Australian Army Nurses in Sumatra.
The Reverend Dr Ruth Redpath led the Memorial Service this year. Acting President of the Nurses Memorial Centre, Mrs Karla Freer, conducted the wreath laying ceremony and also gave a speech. The many wreaths are laid by nursing and related organisations in remembrance of our fallen colleagues.
This year the Defence Force representatives included Group Captain Paula Ibbotson RAAF, Pipe Major Lance Corporal David Connolly, Lance Corporal James Maple and the Catafalque party, and Major Murray Pearson on behalf of Lieutenant Colonel Alison Kaine, the Commanding Officer, Australian Army School of Health. Following the service an address was given by Captain Amanda Garlick (Royal Australian Navy).
To find out more about the Nurses Memorial Centre, its history, membership and its scholarships (and to get involved) visit: www.nursesmemorialcentre.org.au
Author
Cynthea Wellings Visit
Cynthea Wellings was educated as a registered nurse at the Royal London Hospital, England. Cynthea Wellings migrated to Australia in 1981. Her extensive nursing experience, both in England and Australia, involved working in community and general hospital settings, as well as a short period in mental health nursing. Her passion, however, was always trauma nursing. After completing postgraduate qualifications in gerontology nursing, Cynthea focused her attention on continence promotion becoming a founding member of the Continence Foundation of Australia, and co-authoring a bestselling book about urinary incontinence. Now, as CEO of Ausmed Education Pty Ltd, Cynthea works with a large range of nurses and other professionals to develop high quality continuing professional development activities. In 2014, Cynthea was recognised as one of Australia's '100 Women of Influence'.