This article has been archived and is no longer being actively maintained for accuracy.
During my 38-year career in nursing practice I have been privileged to work at the bedside, in the classroom, and as a nurse researcher. I am one of those nurses who believes that nursing is in my genes!
My work hours have always been long and for many years I deluded myself into believing that any physical and emotional stress I felt was merely a product of my chosen profession, and not something that could be managed. However, in October of 2013 I had a life altering experience that caused me to recognise my own need for self-care.
I was attending a conference sponsored by the American Association of Colleges of Nursing (AACN) in Washington DC. The keynote speaker was Vivek H. Murthy, Surgeon General of the United States.
Vivek was the first ever nurse to be appointed to the position of Surgeon General and the focus of her talk centred on self-care, and the growing problem of obesity in US veterans, and the nursing staff that provided their care. During her speech, I was both humbled by her words and motivated to make a personal change in my own health.
Following her presentation, I had an opportunity to speak with the Surgeon General and thank her for inspiring me to action, and not chastising my own failing health. She suggested that I reflect upon my past successes – not failures – and acknowledge that the stress of the past does not have to dictate the quality of my life in the future.
During my flight home, I focused on my achievements of recent years: I successfully battled breast cancer in 2003; remarried a man who has become my best friend in 2009; earned a PhD in 2014; and I have the daily pleasure of watching my two wonderful daughters become powerful and successful women. I realised that the only barrier stopping me from dealing with the stress in my life was my inability to recognise its existence!
When I returned home, I pulled out a copy of my dissertation (which I had buried and vowed never to look at again, due to shear exhaustion). The topic of my dissertation was recognising the impact that state and trait anxiety can have on nurses learning in clinical settings. It was high time I took my own advice!
Related Learning: Professional Wellbeing Video Course
State Anxiety
State anxiety is defined as an individual's emotional response to a situation or event which can include symptoms of uneasiness, tension and activation of the autonomic nervous system (Spielberger, 2010). Symptoms of state anxiety can include tremors, sweating, increased heart rate and increased blood pressure. During the previous ten years, I had experienced all of those symptoms in clinical practice, in academic settings, and in my personal life.
Trait Anxiety
Trait anxiety was defined as the tendency of an individual to react to stress with state anxiety, noting that individual responses to stress vary with personality and prior exposure to stress (Spielberger, 2010).
I am – like many successful nurses – a 'type A' personality. I worry about providing the best possible care for each patient, student and family member, at every opportunity. Anything less than that is simply unacceptable!
Historically, my reaction to stress in the past was to find comfort and calm through eating, especially in the evening prior to going to bed. That coping strategy was not only ineffective, it had become self-injurious. I had to discover a healthy alternative that would fill my cup (and not my waist-line). The answer for me came in a wrapped package for my 54th birthday!
My daughters recognised my struggle and remembered the stories I had told them about how much I enjoyed walking as a young professional. They purchased a tracking device for me that monitored my steps and provided me with concrete evidence of my daily accomplishments.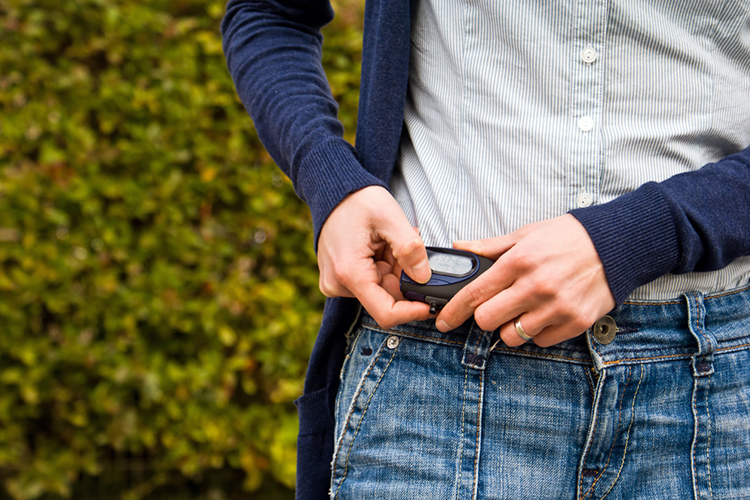 For the first month I set a daily goal to walk 2,500 steps. During my daily walks I made a conscious effort to remember the Vivek Murthy's advice and focus on my daily achievements, rather than the tasks I still needed to accomplish.
I soon realised that by the end of each walk I was tired, but I recognised a feeling of calm and a sense of accomplishment. My daily walks become meditative for me – amazing, considering the typical speed of my daily working life!
About three months into my journey of meditative walking I experienced a day that tested my resilience. To put it simply, the day had been pure chaos! I arrived at home unsure of what I had accomplished, but I knew I was both physically and mentally exhausted.
As I was pressing the button on my tracking device, I was convinced I had walked at least 20,000 steps. However, much to my chagrin, I had only achieved 4,000…
As I was putting my sneakers on and grumbling to myself, I had what I like to call a light-bulb moment: "I would never think about going to bed without brushing my teeth, and I needed to think about walking as my time to 'spiritually groom my soul!'" By the time I returned to my house I had walked 8,000 steps and from that day forward I have not missed a day!
About six-months into my journey I realised that I was able to walk 10,000 steps daily and within 10-minutes of each walk, I could feel both my mind and body relaxing. I had found that 'something' that capitalised on my past achievements, and my weight had dropped to 165 lbs!
On my daily walks, I try to focus on the positive aspects of my professional and personal life. Instead of reviewing my 'to do list,' I focus on my 'list of successes'. Initially, for me, this had to be a conscious effort, but as the months and years have progressed, it has become a natural part of my walking meditation.
My nurse colleagues continue to be incredibly supportive. They continue to act as life-preservers on days that we are in meetings surrounded by work stress and food options that could pose a barrier to my ultimate goal.
This morning, I stepped onto my scale, four years older, and a total of one hundred and forty one pounds lighter than I was in 2013.
As nurses, we are constantly challenged with caring for our patients, families and colleagues, and then – perhaps, if we remember to – ourselves. However, we must recognise that our continued ability to care for others is directly dependent upon our ability to care for our own physical, emotional and spiritual being.
While I recognise that walking may not be the answer for everyone, I challenge you to map out your own route for stress management. You are more than worth the journey!
[show_more more="Show References" less="Hide References" align="center" color="#808080″]
References
[/show_more]