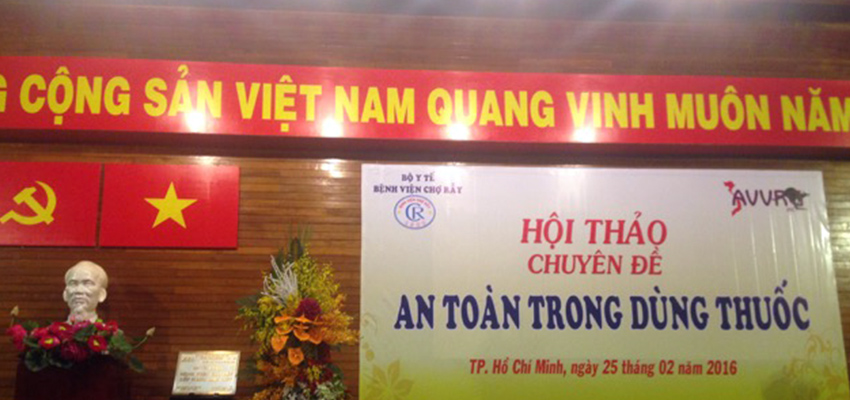 This article has been archived and is no longer being actively maintained for accuracy.
Why do you learn? One of my mentors drilled the answer to this question into me early in my nursing career "You learn so that you can teach others!"
And today, on day four of volunteering in Vietnam, I was proud to fulfil this advice by presenting a lecture on the Safe Handling of Cytotoxic Medications and Waste.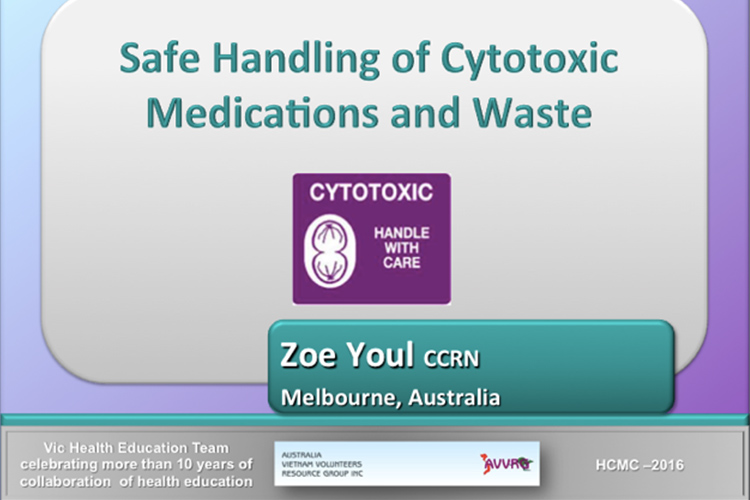 To give some background I need to state that safety when working in oncology has long been a pet topic of mine. I am truly passionate about improving outcomes for patients with cancer, and ALSO about improving staff safety when working in oncology.
We were taken to a large auditorium that had been set-up especially for the lectures we were delivering. The room was filled with nurses. Some sat bleary eyed, having just finished night shift, and others sat alert and eager to learn, having decided to spend their day at our lectures. They were not getting any form of study leave to be there. These nurses were motivated +++
In Vietnam it's still unclear to me if continuing professional development (CPD) or continuing nursing education (CNE) is mandatory. I don't believe it is, although I have been told that it is in the process of being instituted. Even Google hasn't been able to confirm this!
But regardless of their formal requirements, this group wanted to learn! On our journey so far, we have not met any ward-based Nurse Educators here in Vietnam. So this study day provided a great opportunity to share and update knowledge.
The President of our volunteer organisation, the Australian Vietnam Volunteers Resource Group Inc. (AVVRG), Ms Jackie Wright, gave a beautiful introductory speech before the formal lectures begun. It provided a great opportunity to reflect on the relationship that this volunteer group has established with this hospital over a number of years.
The lectures we gave had a practical focus, and I am confident that much of what we taught could be immediately applied in their local patient settings and as such, was very useful to those present.
We shared knowledge on how to provide education to patients undergoing chemotherapy. I wondered about the impact this would have on their patients who, for example, could be better informed about the need to seek medical attention if they developed a fever.
We shared practical information on steps to take if extravasation is suspected during chemotherapy administration — although this may not be such a problem because Vietnamese nurses are incredibly skilled at cannulating!
I do hope my lecture on chemotherapy and safety makes a difference. I say this because we all have a right to feel safe – and we are all responsible for not just our own, but others safety. Chemotherapy agents are potentially mutagenic, teratogenic and carcinogenic. Correct handling and management of these agents is so important and should not come down to money. Maybe the budgets of these hospitals won't allow for impervious gowns or nitrile tested thick gloves. But all these nurses deserve to know basic information that can keep them safe.
The theme of shared learning was omnipresent. The questions that followed the lectures were amazing, and there were lots of them! Even the most simple questions often turned out to be quite complicated when explored and allowed for the transfer of practical information that can hopefully enable nurses to improve their patient care – regardless of the available resources. I found I learned so much from the nurses in the audience from their astute questions.
At times I questioned whether the knowledge I was passing on may be misconstrued as condescending. We use these gloves; we do this, or, we do that in Australia. Debriefing with the team though, I realised that transferring knowledge of what our best practice is may assist these nurses to review their own practices.
I best be off as I have a mountain of washing to do before spending the evening at the Australian Consul General's house! More to come…
Author
Zoe Youl is a Critical Care Registered Nurse, Nurse Planner and Online Education Manager at Ausmed Education. In this role, she manages Ausmed's Online Education Team which develops Ausmed's online courses, lectures and articles. Before commencing at Ausmed Education, Zoe worked as a Critical Care Registered Nurse in Intensive Care at a large private hospital in Melbourne. She values the ability of education to enable personal and professional growth, is a passionate teacher and has experience as a Sessional Academic teaching undergraduate nursing students. Zoe is a member of the Australian College of Nursing (ACN), the Australian College of Critical Care Nurses (ACCCN), the Australian Nurse Teachers Society (ANTS) and the Association for Nursing Professional Development (ANPD). She holds a postgraduate qualification in Clinical Nursing (Intensive Care) and is currently undertaking a Master of Nursing (Leadership and Management). Zoe was recently appointed the Victorian Branch Representative of the ANTS National Committee. Zoe is committed to improving the health and lives of all people through the development of effective and meaningful education whilst also promoting the impact of unique non-clinical nursing roles.