In order to recognise, manage and treat respiratory conditions in children effectively, we need to be able to confidently assess a child's respiratory rate, effort and efficacy.
We need to know what's normal before we can assess what is abnormal.
Unlike adults, children breathe at different respirations per minute (rpm) according to age. It's not uncommon for a newborn to have a respiratory rate of 60, whereas a 12-year-old can comfortably have a respiratory rate of 18 rpm. Breathing at any age should be effortless and soundless. The following table details the normal respiratory rate and heart rate for different ages; although a consensus is hard to find, most publications have similar parameters as a guideline.
Paediatric Respiration and Heart Rate
| Age | Respiration: Breaths/Min | Heart Rate: Beats/Min |
| --- | --- | --- |
| Neonate | 30-60 | 110-160 |
| Infant | 30-40 | 110-160 |
| Toddler | 25-35 | 100-150 |
| Preschooler | 25-30 | 95-140 |
| School Age | 20-25 | 95-140 |
| Adolescent | 15-20 | 55-85 |
Why are Children Different?
Infants have smaller heads with larger occiputs; therefore the head is naturally flexed in the supine position. They have large tongues in a small mouth and the trachea is short (about one-third of the length of an adult's). Due to these differences a child's airway is much easier to occlude than an adult's.
A child's upper and lower airways are also smaller than an adult's and their lungs are not mature. They have soft, horizontally sloped ribs and poorly developed intercostals. Their chest walls are more compliant and children rely heavily on their short, flat diaphragm.
The APLS guidelines note that the most common causes of respiratory arrests in children are illnesses and diseases such as croup, bronchiolitis, asthma, foreign bodies and respiratory depression caused by toxins, seizures and raised intracranial pressure.
Assessment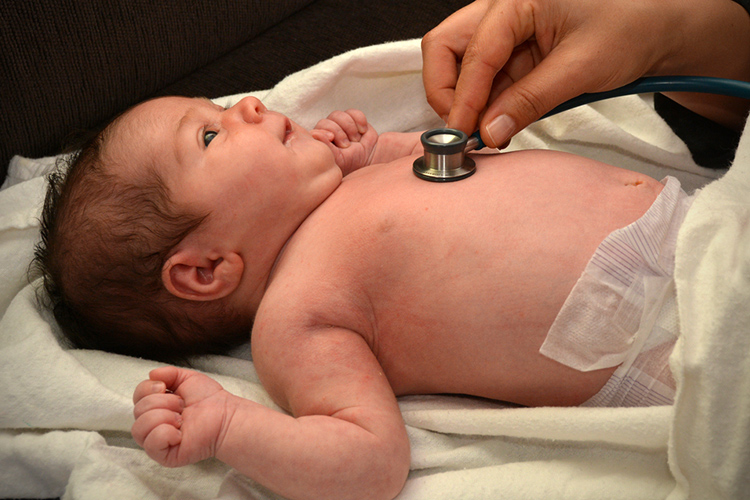 Early recognition of respiratory distress and deficit is vital to the successful management of sick children and the prevention of circulatory deterioration. In order to manage respiratory distress it is important to have a systematic approach to assessment. In Australian emergency departments, the most common approach is the ABCDs described in the APLS Guidelines – Airway, Breathing, Circulation and Disability.
When assessing the airway, you should consider the following:
Is the airway patent?
Can a foreign body be visualised (a finger sweep is not recommended due to the risk of further occlusion)?
Is the patient drooling?
Drooling is indicative of an obstruction (either by foreign body or swelling). Patients with swelling, such as an enlarged epiglottis, will drool and protect their airway, often staying very still and preferring an upright position.
Some of these signs of respiratory distress may be subtle so it is recommended that the patient is very carefully assessed – remove clothing or at least lift up their t-shirt in order to assess the torso.
As well as rate of breathing, effort should be assessed. What can you hear? What can you see? Listen for stridor, wheezing, grunting and gasping (this is often a pre-terminal sign). Look for accessory muscle use, recession, nasal flaring and tracheal tug – young babies will often 'head bob'. Children will 'tripod' if they are having difficulty breathing and babies may position themselves with their neck extended to open their own airway. If they are comfortable leave them in their preferred position; they have chosen this posture for a reason (review lung sounds).
Some of these signs of respiratory distress may be subtle, so it is recommended that the patient is very carefully assessed – remove clothing or at least lift up their t-shirt in order to assess the torso.
Causes of Breathing Difficulties
Listed are common causes of respiratory distress in children (this list is not exhaustive but is merely indicative of some common presentations to an ED):
Upper airway obstruction: foreign body, croup or tonsillitis
Lower airway obstruction: asthma, bronchiolitis
Disorders affecting the lungs: pneumonia
Disorders around the lungs: pneumothorax, rib fractures
Disorders below the diaphragm: peritonitis, DKA
Increased respiratory drive: DKA, shock
Decreased respiratory drive: coma, seizures, raised ICP, toxins (poisoning)
Always remember
You need to be aware of what is normal before you can recognise what is abnormal. It's helpful to establish a baseline to compare progress or deterioration. Use a systematic approach, such as ABCD (Airway, Breathing, Circulation, Disability). The goal of assessment is not to make a diagnosis but to determine distress and track changes. Always assess the child and respond to symptoms – consider oxygen, suction and medication. Ensure you document your assessment and seek help early.
This article is the first of a series on paediatric respiration. In the following articles, I will consider some common paediatric respiratory illnesses and look at specific assessment and treatment options.
[show_more more="Show References" less="Hide References" align="center" color="#808080″]
References
Advanced Life Support Group (2012) Advanced Paediatric life support: the practical approach. Oxford:Wiley Blackwell
O'Leary,F.Hayen,A.Lockie,F and Peat,J (2014) ' Defining normal ranges and centiles for heart rate and respiratory rates in infants and children: a cross-sectional study of patients attending an Australian tertiary hospital paediatric emergency
department' Arch Dis Child DOI:10.1136/archdischild-2014-307401 accessed 10/11/2015
Royal Children's Melbourne Clinical Guidelines (2015) Assessment of Severity of Respiratory Conditions website accessed 10/11/2015
[/show_more]
Author
Abbie is a Nurse Practitioner currently working in a Specialist Allergy Clinic in Brisbane. She has been a paediatric nurse for over 20 years originally working in the UK before moving to Australia with her young family 8 years ago. Abbie has a diverse career working with some of the most vulnerable patients. She has worked in paediatric oncology , emergency and general paediatrics. She has worked for NGO's in the fields of child protection and parental support as well as currently working with re- settled refugees. Abbie is a passionate nursing advocate and has just started the new challenge of blogging. See Educator Profile