This article has been archived and is no longer being actively maintained for accuracy.
It's one of the best things in nursing. That buzz you get when you know that you've made even the smallest difference. Priceless.
We began our second day in the back of an ambulance. Well, it was a mini van with a normal interior but an ambulance-like façade. Still, pretty cool! But despite this cunning disguise, the hairs on my neck stood on end as we made our way through the streets of Ho Chi Minh, induced largely by the thousands of motorbikes tearing their way through the city.
The hospital entrance presented much the same image as yesterday: local people occupied near every inch of the sidewalk. We were again welcomed warmly by the Chief Nurses with jasmine tea. We were told that today the group would be spilt up – with half of us going to the Emergency Department, and my half heading to the Palliative Care Unit.
As we made our way to PCU we shared stories from our first day. Stories included more than a few traumatic recounts from ED: road trauma; trolleys everywhere; minimal pain relief; intubated patients left unattended; and families going through hell.
Upon arriving at the inpatient medicine palliative care unit we were proudly shown the new syringe drivers by the head nurse. This acquisition followed the 2015 visit by our volunteer organisation, and represents a major development in the 15 years that the group has been coming to Vietnam. This was the first 'kick' I got from today's visit.
Traditionally, opioid use in Vietnam has been fraught with barriers. Strict regulation, limited availability, knowledge deficits, and fear of addiction and other side effects has meant very limited use. The uncertainty around access to pain relief was another apprehension of mine. So you can understand my delight to see the syringe drivers in use.
We discussed how pain was assessed and documented – something I will elaborate more on in another post as I am presenting a lecture on pain relief in palliative care. Currently pain is assessed using a standard scale – the visual numeric or Baker-Wong Faces scale – but only documented as a number out of ten at the very bottom of an observation chart. We were asked by the lead nurse if we could provide them with a more elaborate pain assessment chart. Consider it done. Second 'kick'!
My third 'kick' came from a 10-minute chat with a beautiful Vietnamese woman who had been a farmer in a regional province. After becoming sick last year her only son, an apprentice chef, quit his job to look after her. She's barely left hospital since. Chemotherapy has left her weakened, fatigued, and short of breath due to multiple pleural effusions, but her loving smile has not yet deserted her. We chatted about her life in Ho Chi Minh, her family, and our mutual love of Vietnamese food – I have been given the details of the restaurant her son worked at!
Before leaving the 10-bed roomer 'terminal unit' – fully open with no curtains – we could give one little gift. One of the tour members has hand-knitted beanies to give out and I was fortunate enough to see the enormous smile that broke out across this woman's face when we gave her one. She has given me permission to share this photo with you. Isn't she beautiful?!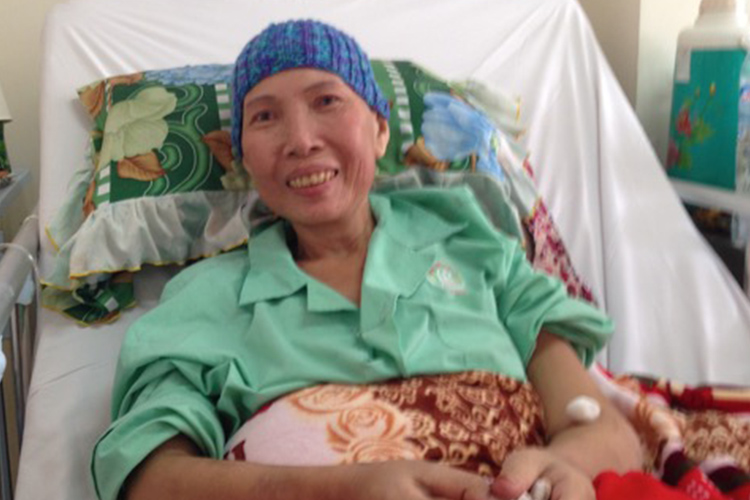 Next, we visited another woman whose illness forced her to leave her regional home. Of a night time her devoted husband can be seen sleeping on the floor in the corridor as the commute is too far. Though we didn't hear as much about her life, I was really pleased to see a syringe driver insitu, delivering 2mg of morphine intravenously per hour. Although her pain was not fully controlled, it was just wonderful to see. We were able to improve her comfort slightly by demonstrating different positioning techniques. Her husband watched keenly as we showed him how he could elevate her arm slightly, rest it on a pillow and use moisturiser to gently massage her swollen arm, perhaps related to an angry looking radiation burn on her shoulder. Fourth 'kick'. Again, I have received permission to share this photo with you.
The final kick of the day came from a woman who was lying on a stretcher in the middle of a small 12-bed room, home to 15 patients. The fact that two patients often shared a bed was a confronting reality to me. This woman had a pathological fracture and was not a candidate for surgery. We had been taken to see her after asking about pressure injury prevention. We were able to demonstrate to the nurses some repositioning techniques.
As we did so, it prompted her to let out a huge cough. You'll know what I mean when I say it was a really good one! A cough you hear across the unit and you think, wow, glad that's out! This of course prompted us to talk about chest physic. We left the room having explained to the patients the benefits of taking even 5 deep breaths per hour and coughing. Massive 'kick'!
I'll leave it there for today, and I hope you can carry these small kicks away with you. Whilst not wanting to over-inflate ourselves, one can truly come away feeling like these things may make a small difference both to the lives of the patients, and that of the nurses.