As a nurse I always believed we could put up a wall when looking after patients, and that we wouldn't have to worry about them after our eight-hour shift.
Whether we are working in a general ward, palliative care or a hospice unit, all nurses will deal with death and the dying patient at some point in their nursing career.
When I moved into palliative care and became a palliative care nurse, my emotions about my patients deepened as they become almost like family due to the multiple times that they were admitted into the Unit. Even though we were sad when their time came to pass away, I knew that it was another family that had to deal with the tragedy and grief that follows.
That was until eight years ago when my Father was diagnosed with renal cell carcinoma. At that stage I had been a nurse since 1993 and a palliative care nurse for a year, although I had dealt with basic palliative care in other areas.
My role was now split between having palliative care in my personal life and also in my working life. The grief and fear that I had seen other families go through was something that I was now experiencing and I mistakenly thought that being a nurse would help me cope in a way that other people didn't get to experience. Seeing my father deal with a kidney removal, chemotherapy and then a palliative diagnosis within a matter of five years while being a nurse was actually worse than not having the medical knowledge that most families live without.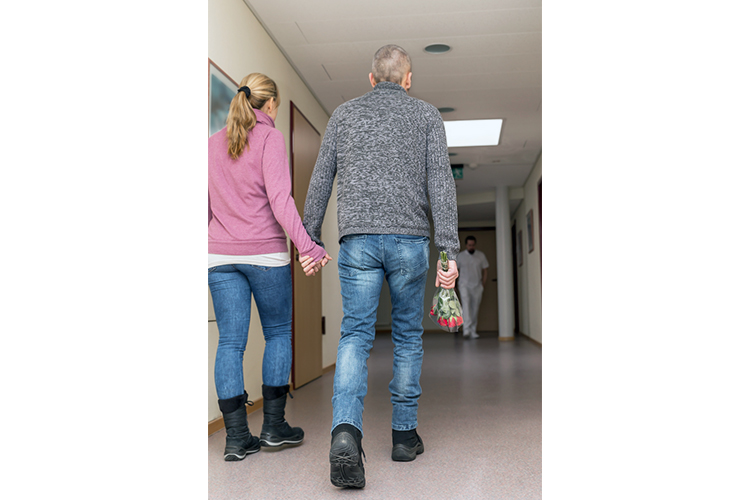 Although cancer can differ even between people suffering from the same type, I couldn't help but think about other patients with cancer and then what my father would go through. My family would ask me questions and I would think, 'Do I answer this as a daughter or as a nurse?' My mother would often say, 'Don't be a nurse, just be a daughter'. How could I do that when in the back of my mind, I knew what was coming?
The only good thing about being a palliative care nurse at that stage was that I knew how to talk about death and dying with my father. It helped that he had accepted his diagnosis probably earlier than the rest of us. We made jokes that other people might have found offensive, but it helped us deal with the inevitable.
There were times when I felt that having a palliative care background was more of a hindrance than a help. My father's medical team would wait until I arrived before talking about future plans and although the staff looking after my father at the local palliative care unit never spoke to me about being a palliative care nurse, I knew that they were aware, as I was the one that always asked for help for my father. It was during this time that the barrier between being a palliative care nurse and being the daughter became blurred, but no one could tell me how to deal with the mixed emotions.
Authors have written numerous textbooks and articles about providing nursing care to a terminally ill patient and their family, however, no one has ever written a book on how to deal with issues when the patient is one of your own.
In 2016, Ingebretsen and Sagbakken wrote an article that documented challenges nurses found in their encounters with dying patients. In their interviews, nurses identified that they tried to build a distance between themselves and the dying patient and their families.
Pennbrant, Tomaszewska and Lorentzson Penttila (2015) also wrote an article about nurses' experiences in caring for palliative stage patients, in which the nurses believed that separating work from their private life was beneficial to prevent taking work home with them. Solutions like these would be beneficial in 'normal' circumstances, however, I didn't have that luxury.
My life was palliative care constantly, and even though my father lived in another state, there were constant phone calls regarding test results, changes in condition and emotional support for the rest of the family. I couldn't afford to build a distance or separate work from my private life. Every time the phone rang the emotions would gather as I wondered who was on the other end and what I would be told.
It has been three years since my father passed away and although I think back on what care I could have provided, I don't think I would change anything. It has made me realise that nurses need to understand that what they do at work one day, they may be doing for a family member another day.
Being a nurse doesn't stop the same tragedies from happening to our own family, but knowing where to draw the line between being a health practitioner and being a family member may help deal with the conflicting emotions that can occur with both roles.
References
Ingebretsen, LP & Sagbakken, M 2016, 'Hospice nurses' emotional challenges in their encounters with the dying', International Journal of Qualitative Studies on Health and Well-being, vol. 11, 31170, viewed 12 September 2017, https://www.ncbi.nlm.nih.gov/pubmed/27258584
Pennbrant, S, Tomaszewska, Lorentzson Penttila, G 2015, 'Nurses' Experience of Caring for Palliative-Stage Patients in a Hospital Setting in Sweden', Sciedu Clinical Nursing Studies, vol. 3, no. 2, viewed 12 September 2017, http://www.sciedupress.com/journal/index.php/cns/article/view/6079/0