Sorry, this course has expired and is no longer available.
Reason for expiry: Replaced with newer article. For an alternative resource, we suggest you take a look at
the recommended resource
Nurses hold an important role in preventing falls. We need to be able to recognise our patients' risk, treat patients who have fallen, and implement successful falls prevention programs.
According to the World Health Organisation, falls, and the injuries they cause, are major public health problems. Not only because falls lead to around 20-30% of mild to severe injuries, but also because more than 50% of hospitalisations from falls are among people aged 65 years and older (2007).
It's not just the injuries caused by falls that are the problem, some of which can be life-limiting if not life-threatening, but the post-fall syndrome that often occurs among the elderly.
This is where hospitalisation causes loss of autonomy, confusion, immobilisation and depression, which can put a further restriction on daily activities and often requires greater support from family and social services to rehabilitate the individual.
The Cost of Falls
The costs of falls is increasing as our population ages.
According to the Australian and New Zealand Falls Prevention Society, around 30% of adults aged over 65 years fall once a year or more.
As our population ages, with an estimated 23% being aged over 65 by 2050, this is a significant cause for concern. If the incidence rate remains the same, it's predicted to cost our healthcare economy $1.4 billion per year by 2051.
It's not just the financial implications we need to consider but the impact on our hospitals too. During 2010, 240,000 bed days were taken up by injuries from falls, which is set to double if the trend continues.
Let's not forget the physical cost to our patients. A fractured hip from a fall has a slow recovery and is the most vulnerable injury to post-operative complications, around 25% of hip fractures lead to loss of life. Between 2002 and 2012 there was a 22% increase in admissions from falls causing hip fractures.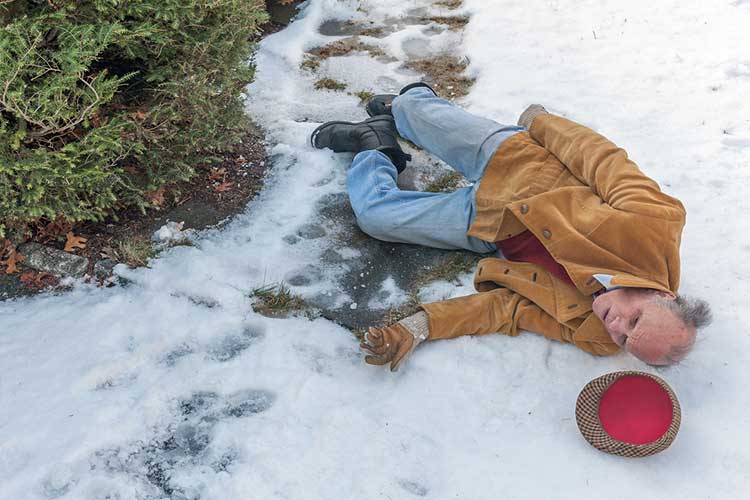 What is a Fall?
What is a fall and what causes people to fall?
When we talk about a fall, we tend to use this definition – 'inadvertently coming to rest on the ground, floor or other lower level, excluding intentional change in position to rest in furniture, wall or other objects.'
The Victorian Quality Council defines a fall as 'a sudden, unintentional change in position causing an individual to land at a lower level, on an object, the floor, the ground or other surfaces.'
This definition means a fall can occur in many ways including someone slipping, tripping over, being lowered to the ground, their legs giving way, or simply losing their balance. However, our patients might not see things the same way and will often refer to their loss of balance or a stumble as a 'fall'.
For the context of this article, we're talking about falls that result in injury or death.
There are multiple reasons why an individual may fall leading to injury. These may include health-related reasons, such as:
Balance issues and dizziness
Muscle weakness and stiff joints
Poor eyesight
Low blood pressure
Reduced feeling in the feet and legs
Slower reaction times
Difficulty concentrating
Dementia
Side effects from medication
There are environmental factors we need to consider too. As housework becomes more difficult due to many of the physiological reasons cited, the home becomes a hazard.
Wet floors, unsecured rugs, dim lighting, attempting to reach high or low for items, and rushing up or down the stairs to use the bathroom during the night are all common causes of falls.
Falls in the Community
The causes of falls can vary depending on where they occur.
According to the American Geriatrics Society et al. (2001), 35-45% of falls occur with adults living in the community, i.e. in their home or local environment. This rises to 50% of those aged 80 years or older.
It's reasonable to suggest that the majority of community-based falls are caused by environmental factors, as these would not be present in an aged care facility or hospital. Around 10% of falls occur around the stairs, for example, where single floor access would be the norm in a healthcare facility.
Falls in Care Settings
What then, causes falls in inpatients?
Unfortunately, falls among hospital inpatients are common, accounting for 2.3 to 7 falls per 1000 patient days (Halfon et al. 2001), with approximately 30% of those falls resulting in injury.
Confusion and co-morbidities are significant risk factors within a healthcare setting, but there's something else we need to consider – staffing levels.
A study by Hitcho et al. (2004) found that more patients were ambulating unassisted at the time of their fall and that although 46 of the study sample participants would use aids for this at home, only 3 (out of 183) used one in the hospital. This suggests that fear of losing dignity and independence is a significant risk factor.
Falls Risk Assessment
Using Fall Risk Assessment Tools (FRAT) is vital in identifying individuals at risk of falling.
To put an effective falls prevention strategy in place, we need to use an assessment tool to establish which of our elderly patients are at risk. This should be used on admission, on transfer, following a change in status, a fall and if a long-term inpatient at frequent and regular intervals dependent on the patient's needs and risk factors.
Common components of a falls risk assessment tool should include:
Medical diagnosis
Pre-existing medical conditions
Medication
History of falls
Gait and transfer ability
Ambulatory aids needed
Mental capacity
The Morse fall scale is one such tool which is a research-driven and therefore popular assessment tool for medical professionals. Using the components listed above, it creates a risk score that can be used to identify patients that need fall prevention interventions putting in place.
Another tool used for fall risk assessment is the Braden assessment tool. Though developed to identify patients at risk of developing pressure sores and ulcers by identifying: sensory perception, moisture, activity, mobility, nutrition and friction and shear; a moderate to high risk on this scale is also indicative of a risk of falls.
Though many hospitals and care facilities rely on this tool to assess risk for both falls and pressure sores, it would be more beneficial to use a tool, such as the Morse fall scale, specifically designed to identify patients at risks of falls for an effective prevention strategy to be implemented.
Implementing a Fall Prevention Strategy
Implementing a Fall Prevention Strategy for high-risk patients is essential.
Once patients at risk of falls have been identified and the particular factors that led to that result, a strategy can be implemented to reduce that risk and prevent falls from occurring.
Planning should be patient specific and address their needs to mitigate the risk – this might be as simple as treating the medical condition that causes a risk factor, like dizziness or poor eyesight; ensuring aids are always available for use within easy reach of the patient; and ensuring everything is documented, and the team fully briefed at each shift change.
Education and training among all staff is important in preventing falls.
A falls prevention lead who ensures that training is up to date and relevant, that all staff have attended and are aware of their responsibilities is key here. Clear written policies, easy to use assessment tools and clear documentation are crucial.
Ensuring that each risk factor is adequately addressed is important when it comes to preventing falls, this includes environmental causes along with personal and medical. Just like in the home, a hospital or care facility has its share of hazards that can cause a risk of falls to our patients.
Dimming the lights late at night can make it difficult for our patients to see how to get to the bathroom, cleaners using extension leads that are a trip hazard, and untrained friends and family attempting to help their loved one are all environmental risks we should be aware of, and continually monitor.
Risk Factors and Fall Prevention
Prevention of risks is the best way of reducing the opportunity for falls to occur.
The best way to prevent falls is by removing those environmental factors that pose a risk. Having cleaners in the room/ward when patients are less likely to be mobilising, for example. Ensuring that health and safety is of paramount concern to every member of staff in that department.
There are other things we can do to help our patients on a more personal level too. Improving their overall health and fitness through effective medication, adequate nutrition and physiotherapy is one way of restoring strength and motivation, particularly when patients have had a long stay as an inpatient.
Being on the ball with assessment and continually reviewing our patients is the best way to ensure we prevent as many falls as we can.
Complications from Falls
The last thing we want is for our patients to come to harm under our care. The complications of an in-hospital fall include pneumonia, infection, extended stays and post-fall syndrome.
Many patients develop anxiety and a fear of falling after experiencing a fall-related injury, which can lead to decreased quality of life, functional limitations and depression (Boyd and Stevens 2009).
In fact, a study by Delbaere et al. (2010) found that the risk of falling raises the risk of a fall, finding a correlation between anxiety levels about falling and other risk factors. Despite 33% of the anxious group having a low physiological risk of falling, they experienced multiple or injurious falls during the one-year follow up than the vigorous activity group who had little fear or perception of risk.
The causes of falls are multiple – physiological, psychological and environmental – but regardless of the cause, falls are costly in terms of health to the patient, and our economy. Falls prevention is especially a critcal part of aged care, whether the patient resides in the community, a care facility or as a hospital inpatient.
Scenario: Your Patient has Had a Fall, Now What?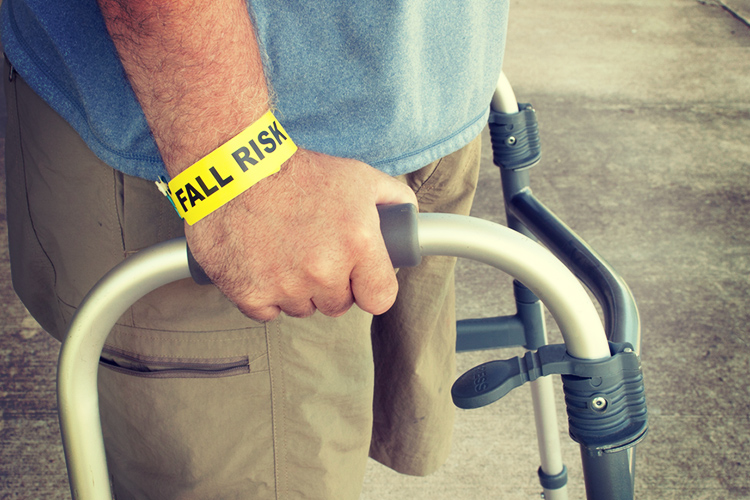 Your patient has arrived on the ward. You have completed their falls screening and found they are at a high risk of falling. This has led you to complete a falls risk assessment and put interventions in place to decrease their risk of falling. But, despite this, they have a fall. What do you do?
Once we have determined that the patient is stable, we then take baseline measurements of the patients' vital signs including their blood glucose levels and neurological observations if indicated. We also assess the patient for any injuries and monitor them for any changes in level of consciousness, the presence of headaches, amnesia, or vomiting.
If it is safe to do so, we can move the patient. This should be done with consideration to the patients' conditions and the hospital's guidelines on lifting – which Australia-wide is a No-Lift policy. Therefore, this may mean making use of an appropriate lifting device.
The patient must then be monitored. Special consideration must be given to patients on anticoagulation or antiplatelet therapies who are at an increased risk of bleeding.
All falls must be reported to the medical officer and documented. Documentation should include a risk incident report in addition to documentation within the patient's history. The patient's family must also be notified.
It should be noted after a fall the patient is automatically at a higher risk of falling again. Analysis of the fall should occur to prevent the individual from additional falls.
References