Thinking Outside of the Box
In my previous article (read: Gamifying Health Literacy in Rural Areas) I challenged you, my dear colleagues, to think outside of your comfort zone and integrate games into your daily patient care activities.
The goal of using games as a teaching tool may be to enhance cognition, psychomotor or affective skills, or a combination of all these attributes. Certain games require more equipment than others.
Complex games may be difficult for rural health nurses to transport when travelling long distances to remote settings. In those instances, storytelling may offer an ideal solution.
The outcome of storytelling as a teaching strategy can inform even the most vulnerable of patients and influence health outcomes for those living in rural and remote settings.
More Than Words
Stories allow individuals who may reside in remote areas an opportunity to learn from each other, regardless of the geographical distance between their homes.
Storytelling provides an opportunity to learn from another person's experiences and these stories can shape, strengthen or challenge preconceived opinions and values (The Health Foundation 2016).
When a story has meaning to the audience, it can engage us and we are more likely to value its meaning. When we are drawn to the characters that are central to a story, the experience can inspire and motivate an audience.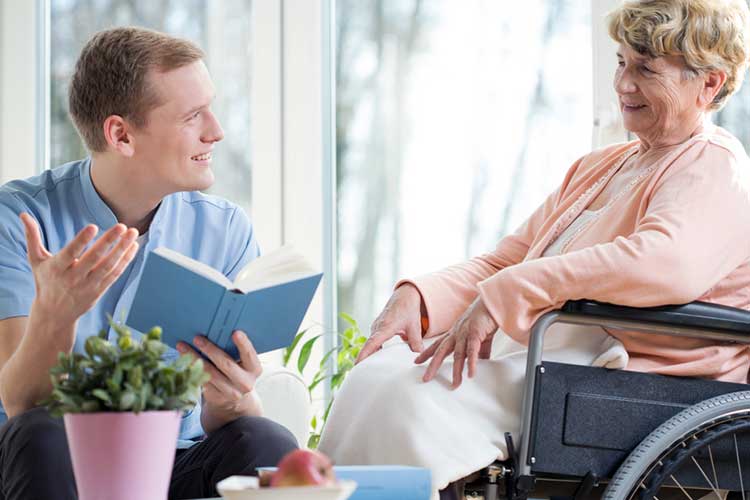 The Rural Nurse Storyteller
I believe that one blessing we have, as nurses, is the face-to-face time that we get to share with our patients.
Regardless of the setting in which you work (hospital, home health, school, or hospice), we are fortunate to have many opportunities to share health information and strategies for optimising patient independence. Imagine if we structured that time to engage our patients in guided storytelling?
Background Information:
Edward Charles is a 64-year-old obese gentleman with a 10-year history of noncompliance with his diabetic diet. Mr Charles was admitted to the inpatient unit with his third episode of diabetic ketoacidosis (DKA) in the past year. His admission blood sugar was 360 mg/dL.
The nurse is concerned that Mr Charles has low health literacy and this may be impacting his ability to make healthy food choices.
Family members have informed the nurse that Mr Charles has been very depressed over the last several months since his daughter and three young grandchildren moved to their new home, which is several hundred miles away. Mr Charles spent 43-years as a librarian at the local elementary school prior to his retirement due to failing health.
The Rural Nurse as Author, Director and Producer:
Nurse: 'Good morning Mr Charles, is this a good time for us to chat?'
Mr Charles: 'Sure come on in. What would you like to talk about?'
Nurse: 'I'm hoping you can help me with a project that I'm working on for a group of children with diabetes who will be coming to our support group next week? The children in the group told one of our nursing assistants that they are angry they can't eat many of the foods that their friends at school eat in the school cafeteria.'
Mr Charles: 'Well, I feel sorry for those children and I know how they feel! I am a grown adult and it makes me angry when I can't eat what my family members are eating during a holiday celebration.'
Nurse: 'That's exactly why I thought you would be the perfect person to co-author this story. If you can help me write the words, I can put them on my computer. Then, if you wouldn't mind, we could record your voice telling the story?'
Mr Charles: 'That's a wonderful idea, maybe I'll learn a few tips about shopping myself!'
The Epilogue
The actual composition of the above story could take place during one teaching session of an inpatient stay or an outpatient clinic visit. The goal of this intervention is obviously multifaceted:
To assess Mr Charles' knowledge base regarding healthy food choices
To provide Mr Charles with concrete information through the use of verbal and visual cues regarding food selection and menu planning
To enhance Mr Charles' feelings of self-esteem by providing him with a vehicle (the story) he can identify as his contribution to helping children in his community.
The only tools that are needed for this intervention are the nurse's knowledge, a powerful imagination and a willingness to share.
So I challenge you, my colleagues, to write the next chapter in this series of stories and share them with your rural colleagues. Remember that your imagination and caring abilities are attributes that you can share through the stories in your hearts and minds!
References