Introducing the Ausmed Loyalty Program
Members save $50.00 on each registrations
Ideal for regular learners
Quick and easy to join
Start saving on your CPD education.
The Ausmed Loyalty Program is a new initiative designed to reduce the cost of CPD for regular learners. Joining is easy and can be done whilst registering for an Ausmed event.
To qualify for the loyalty program, simply register for an event and a discount of $50.00 will be automatically applied to the cost of all your Ausmed event registrations within the next 12-months. Better, this discount will automatically renew each time you attend another event.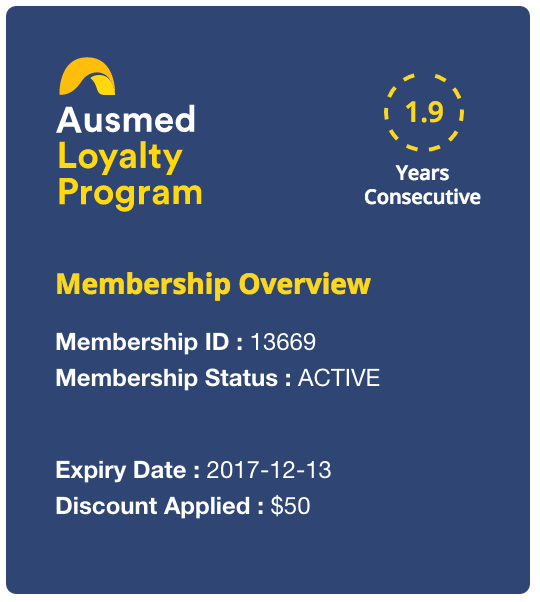 Membership Overview
Member Name :
Membership Status :
Am I eligible?
If you have booked or attended an Ausmed event in the past three years you may already be eligible to join. Enter your email below to confirm...
How do I join?
You will automatically be invited to join the Ausmed Loyalty Program next time you register for an Ausmed event.
If you have attended an Ausmed event in the past, you may be eligible to join right now.
Save $50 per registration
A $50.00 discount will be applied to each registration you make as an active member of the Ausmed Loyalty Program.